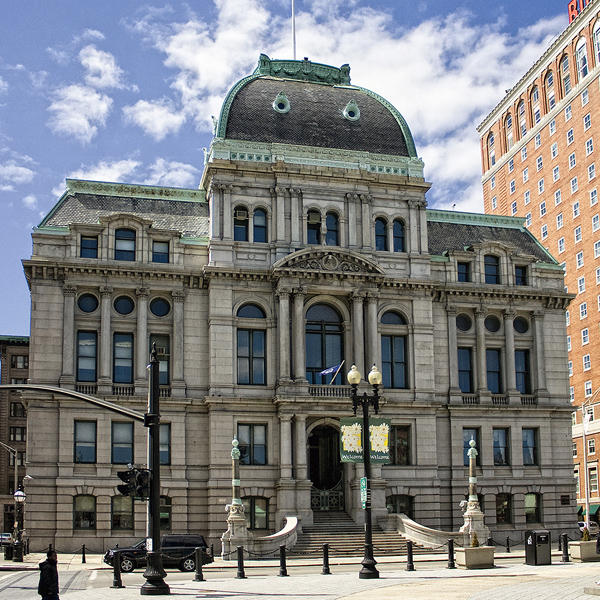 The Providence City Council voted 10-3 to modify the zoning code to add exclusionary zoning restrictions on student housing on Thursday night. Under the provision, persons defined as "college students" would not be able to live more than three to a house in zones 1 and 1A (map), despite reports in The Projo that many of the homes in question have as many as five bedrooms.
Zoning laws in Providence must be passed by City Council twice, and either have a veto-proof majority or be signed into law by the mayor.  The measure, if passed a second time, would be a challenge to housing affordability and transit-oriented design. The upshot is that the 10-3 vote is very fragile. Just one turnaround would allow Mayor Jorge Elorza to veto the zoning change. I am contacting Mayor Elorza's chief-of-staff Brett Smiley for comment, but by publication time it is unlikely that I will have word on the mayor's position. Keep your eyes peeled for updates!
The tempest-in-a-teapot in Ward 5 started around student noise. Councilwoman Jo-Ann Ryan has tried proposing other methods of shunning students, including additional fees on student housing, but decided to settle on this zoning measure, according to reporting done in The Projo.
Changes in density affect transit. Transit viability is affected along an exponential curve, rather than a linear progression, based on density. So small changes in density through exclusionary zoning can have large reverberating effects on transit frequencies, and those changes disproportionately hurt low income people, especially time-poor low income people, like those with multiple jobs or children.
Changes in zoning like this also negatively affect housing affordability, not only for students, but for everyone. You might find yourself saying, "Who cares what happens to college students?" It's not like someone is being discriminated against on the basis of race, or gender, or sexuality. Being a college student is just a stage in life, and it's not even a stage in life that everyone goes through." But the students who are most affected by this type of rule will be disproportionately those students who are riding the razor's edge of affording school. Upper class students will shrug this off, and perhaps not even notice it, or be annoyed by it for lifestyle reasons.
Students who can find housing will. When students overflow from housing they may have previously been able to occupy, they may outbid others with less money looking for apartments. While sometimes this outbidding process can lead to greater housing development, resolving the imbalance, the zoning ordinance itself stops an increase in zoning density, and actually reduces densities below their existing levels. The price increases here are also not due to people's increased desire for a neighborhood–which is at least a mixed blessing–but by artificial regulations that will just keep certain people out. The process of using zoning to limit housing is one of the things that has most affected displacement of working class families from homes. It tries to shape our cities into an imagined ideal of single-family homes that never existed except in the imagination of someone like Frank Lloyd Wright. This means that housing will become expensive, but with none of the attendant positives of that process–a kind of "stagflation" of housing policies.
Who are the people who voted for exclusionary zoning?
 Councilman Kevin Jackson, Ward 3, Mt. Hope (my councilman)
Mr. Jackson narrowly won his last election against a write-in candidate, Marcus Mitchell, who started a write-in campaign for his seat just before Election Day. The election went to a recount. I have contacted Mr. Mitchell and Mr. Jackson on this issue, but as yet have not heard back, but multiple previous conversations I've had with Marcus Mitchell have centered on his involvement with RhodeMap, which opposes exclusionary zoning.
 Councilwoman Jo-Ann Ryan, Ward 5, Elmhurst 
Somewhat unsurprisingly, Councilwoman Ryan voted for her own bill. She is a new  councilor.
 Councilman Michael Correia, Ward 6, Manton
  Councilman John Iggliozzi, Ward 7, Silver Lake
 Councilwoman Carmen Castillo, Ward 9, Elmwood
 Council President Luis Aponte, Ward 10, Lower South Providence and  Washington Park
The Councilman's vote for exclusionary zoning shocks me, because he has frequently  been a voice for tenant's rights and an acceptable if not perfect voice for transit-oriented development. This is a misstep for the Council President, and we hope he'll change his vote.
Councilwoman Mary Kay Harris, Ward 11, Upper South Side
 Councilman Bryan Principe, Ward 13, Federal Hill and the West End
I have to report disappointment on this vote by Councilman Principe, as I've found him to be a very urbanist-oriented councilman much of the time. I hope that residents in my  old neighborhood of the West End will speak out to Councilman Principe, and that he'll change his vote next week.
 Councilman David A. Salvatore, Ward 15, Elmhurst and Wanskuck
 Councilwoman Sabina Matos, Ward 16, Olneyville
Many of these councilpersons represent districts that ought to be unified in their opposition to exclusionary zoning for one reason or another.
Councilmen Yurdin, Zurier and Jennings voted against the measure. Councilmen Narducci and Hassett were not present at Thursday night's meeting. Councilman Zurier's hands haven't exactly been clean. In his own district he has worked to make apartments and other types of multifamily housing less easy to develop.
Please contact your city councilor–and indeed, please contact the entire Providence City Council–and let them know that Providence is not supportive of exclusionary zoning policies. And ask Mayor Elorza to veto any vote next Thursday that isn't over the veto-proof margin of 10.
Update: According to a tweet by Patrick Anderson, Mayor Elorza's office will support the zoning change, as proposed. 
~~~~
10 PVD city councilors voted for exclusionary zoning last night

,