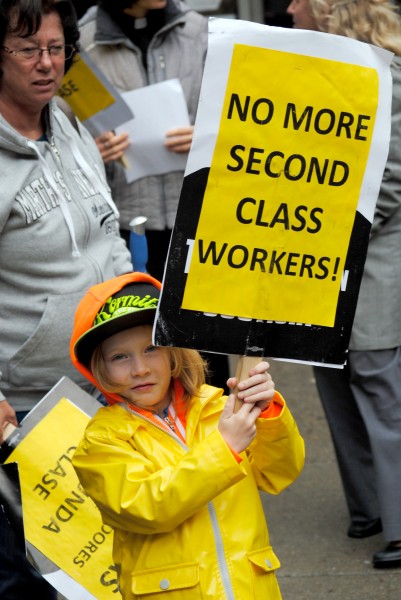 1. Carried cases of beer for myself,three high, through a crowd.
2. Cleaned for an entire shift: snow storm.
3. I claim all my tips. No one will give you an apartment or credit if you don't show income.
4. Forced to "close the bar" and to pay the sitter for overnight hours. I finish the day up about 30 dollars. This was my "money shift".
5. Served the manager drinks while I do his job.
6. Moved full kegs. Many, many full kegs and Co2 canisters (they're as tall as I am).
7. I listen to people when they're sad, which happens a lot when people rely on alcohol to manage their stress and emotions. Listening and empathizing is often part of the job.
8. Inventoried and processed liquor orders.
9. Restocked an entire bar. Every shift.
10. "Cashed out" an entire waitstaff. Most shifts. Not in my job description.
11. Accepted Crumpled up money thrown over the bar onto the floor as a tip.
12. Customer says he's a "producer". Asks me to turn around and see my "rear" in not so polite terms before he orders. I neither do nor say anything.
13. Manager brags about running a "brothel / escort service" in college. I do nothing.
14. Busy day at the bar. Customer grabs drinks over the fruit tray, smashing it. I get gashes across my knuckles and bleed everywhere. No one asks if I am okay. I tape them and keep working.
15. I cut off a customer who has arrived drunk from another venue. He pees on the "service area" of the bar.
16. Man grabs my arm, I twist away and scowl, but otherwise do nothing.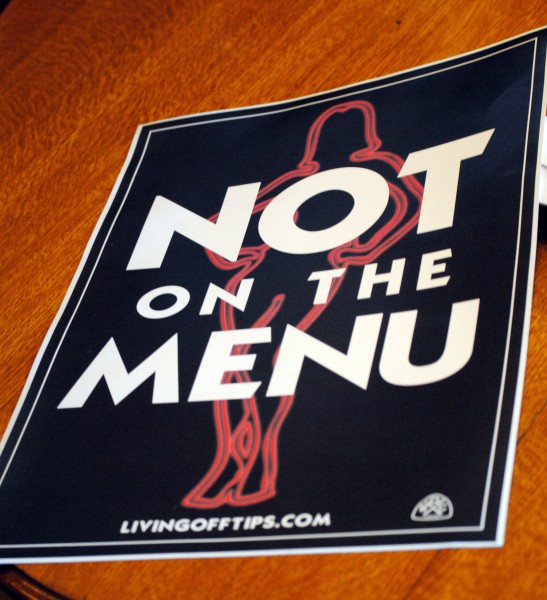 17. Owner grabs me forcefully by the back of the neck to show me where a switch is. I don't tell him that's not my part of my job. I do nothing.
18. Owner splits up my tips. Strangely, I leave with less than when I counted it two hours before. When I make a fuss, they cut my shifts.
19. Manager tells me I'll get a great recommendation if I quit. I do not sign the paper he hands me, knowing I might need unemployment. My son is about 2 years old.
20. I close the bar by myself, at 3 AM. I put the cash in the safe, and set the alarm. Every shift. No extra pay.
21. There are many rubber floor mats here. They are all very heavy and about 6' by 3'. I carry all of them, covered in filth, to the kitchen, where I clean them myself. Every shift.
22. I tear my rotator cuff setting up the bar. An accident. I do nothing. I don't have health insurance. It still hurts occasionally, years later.
23. You can still smoke in bars. I clean stacks of ashtrays, some with gum. There are maybe thirty of them.
24. I roll silverware. Enough to fill about a dozen shoeboxes.
25. I pay a sitter ten dollars an hour, so when I get to work, I'm already at least sixty dollars in the hole.
26. On my feet all night. I close the bar at 3 am and get up to feed my son at 6 a.m.
27. When people say "You're too smart for this job. Why don't you go back to school?", I think, "What makes you think I haven't?" but say nothing.
28. I memorize customers drink orders on the fly. I'm pretty good. I can remember groups of about 8-10 at a time, depending on how busy it is.
29. Manager tells me I had a really great sales day. Like, the best of the past few weeks. Feeling good, but don't get a raise or bonus.
30. The "Service Bar" tape is going crazy. I make pitchers of margaritas hand over fist for hours. The servers only tip us out maybe 10-15 dollars a piece. They make 2.89 an hour too. We have to tip out barbacks 15-20% to keep them happy. We tip out the bussers and expediters as well. Tips are stretched thin.
31. I run Keno slips. No one tips me on those unless they win, which is not frequent. It makes a lot of money for the bar, as I understand. It's time consuming and makes me no money and takes away from my service.
32. I wash dishes. A lot of dishes. I scrub lipstick from glasses.
33. I wear a uniform that is sexually degrading. It's a "referee" outfit that says "#69" on it. I make good money here, so I do it anyway, even though it embarrasses me. I can't bend over without exposing my underwear. This is a new "uniform" and wasn't what I signed up for.
34. Senior bartender tells me I'm shit, and I cry. I don't know what to do. People are yelling at me. I'm only 19. Women (and servers in general) are forced to be competitive in this environment.
35. I get burned expediting food. It's my own fault, I think. Even though the manager practically threw the plate at me.
36. Underage waitress comes into the restaurant and is physically and verbally abusive to me, because she is drunk. I complain. She's friendly with management. They make her a bartender. I have to find another job; this is ridiculous.
37. I book the shows, and live bands for the nights I work. It brings in a little crowd on an otherwise dead night. I get no extra pay for this.
38. I listen to my boss, the owner, talk about how upset they are about their personal life even though it's really inappropriate.
39. I make "bar food". We have a mini-fryer and a pizza oven. I'm a bartender-cook now, I guess. Maybe we'll make more tips. I hope. We get no extra pay.
40. Every week, I do a "deep clean" on my slow shift. I pull out the keg coolers and mop and sweep behind them, I take out every single beer from every cooler behind the bar. Clean every shelf. Anything that can be touched by human hands, I spray cleaner on. It helps pass the time. No one comes here when it rains, except for a few friends. I will break even today.
41. I slice bags upon bags of lemons and limes for the bartender following me. It takes a long time. We help each other out.
42. I come into work, even though I'm really sick. My manager says it's my job to cover my shifts.
43. I pick up an extra shift, Yay! The manager just phoned me. Someone just called out. I guess in some special cases the manager will find shift covers.
44. We're open every day, rain or shine. Everything is closed in the "blizzard", I'll walk the two miles, I like hiking and snow. Maybe it'll be fun, even though I won't make any money.
45. I have an abusive relationship with a co-worker. I get fired a few months after asserting that I feel threatened. He does not.
46. There is a refrigerator for condiments that needs restocking. I refill ramekins of mayonnaise, and other sides. It takes me about 20 minutes. One of my many chores. Part of the job is helping out. The servers need these things ready for the next shift.
47. I refuse to wear a t-shirt that says "Check Out My Rack". That's not a funny joke to me. I'm getting tired of this.
48. I'm not receptive to a customer's vulgar come-on. He calls me a "dyke", and I walk away, otherwise doing nothing.
49. Customer says, "How much for a smile?" I squeeze out a grin even though it's the tenth time I've heard that this week, and it's not funny anymore. It makes me feel dirty. I'm not smiling because I had to push my way through a crowd to get to you. I am 20.
50. I get a really big tip. I'm psyched, because we were overstaffed this week, and rent is almost due.
51. Customer repeatedly orders a "Smirnoff and Vodka". I try and clarify because that's not an actual drink order and customer calls me a "(expletive) idiot". I brush it off.
52. Not a lot of tips because I'm working a "techno night" where everyone is high on "party drugs" and drinks 5 dollar bottled water all night. I restock the cases of water.
53. I get fired for refusing to work a show in conflict with my personal beliefs against racism and homophobia. The owner says it's a "no-show" even though I told him far in advance.
54. Not trying to insult me, a customer says, "You must love this job. It's so easy." People who have never done it don't really know what it's like, or how little they have to pay us. I wish it was just chatting and being friendly; that would be great.
55. I keep a few babysitters, and family members on "standby" for childcare. I don't know what my schedule is going to be, and I can't say no to a shift, or I get a warning or suspension. Say no multiple times, and you get fired. I can't afford that.
56. I buy my own uniforms.
57. I hide my superior's drug use.
58. I memorize the daily specials, and push for extra sales. We have meetings about "up-selling", and I'm generally pretty good at it.
59. I make just enough money to still qualify for SNAP, or food stamps, because the cost of living is so high in the city of Providence. My rent consumes about 70% -90% of my income, sometimes more, in the years I live here. I borrow money. I get roommates. My family helps me. What do other people do to get by?
60. I can't afford a car. I walk to work. Providence is a great walking city.
61. My co-workers and I hang out after work. We vent and swap stories. Camaraderie really seems to get us through tougher shifts.
62. I set up sound equipment for the music tonight. I do not get extra pay.
63. I work well into my pregnancy. The comments about my body (some from superiors) really upset me and I say nothing.
64. I have morning sickness, and run to the bathroom frequently during my shift. Not sure if I'll make any money tonight. Not sure what I'm supposed to do.
65. I think about one of my favorite elementary school teachers. She waited tables on the weekend, and was a lovely, intelligent woman. I think about her especially when people say things like "Stupid people are stuck waiting tables", or when people insult my intelligence for being a server.
66. I carry 16 gallons of orange juice down two flights of stairs.
67. Stood on a ladder and dusted cobwebs. I am in my ninth month of pregnancy.
68. A dishwasher quit mid shift so I washed all the dishes in the restaurant.
No extra pay.
69. I worked for 55 hours in one week and was only paid for 39.5 hours because my boss didn't want to pay time and a half (it would have still only been $4.36 an hour before taxes).
70. A coworker sexually harassed me in front of a crowd of people.
71. I was called a "retard".
72. I was called a "cunt".
73. I was told to "(expletive) off".
74. Served a patron who had his penis out of his pants during moments of his
meal.
75. I worked holidays, my child's birthday, my birthday, and every
mother's day.
76. I was sexually harassed and propositioned by friends of my superiors.
77. I was told if I didn't like it to "get a real job" when I asked for more
than 2.89 an hour.
77. Since becoming an advocate, I've been told by strangers that poor people like
me should just die.
78. The air conditioning breaks at work. It's over 90 degrees in here.
79. No lunch break, ever.
80. I pulled a muscle while lifting a heavy bus bucket. Kept working.
81. Slipped on butter and smashed my face into the tile floor. Finished my shift with a bloody nose.
82. Came into work to cover someone else while having contractions from pregnancy.
83. Turned down unsolicited dates, while smiling, and still doing my job.
84. Wouldn't let patrons in after close. Got called a "bitch" for doing my job.
85. Been a full-time student and made the Dean's List. People still assume I'm lazy and uneducated.
86. Cleaned a rotting mouse out of a sticky trap behind my bar. Got told, "Clean it yourself."
87. Got left drugs as a tip. I don't do drugs.
88. I was forced to pay for tabs that were walked out on, even though I was told not to take credit cards as collateral on lunch shifts.
89. Had a drink thrown at me by a customer who had had enough to drink and was cut off.
90. Broke up a fight. Held a towel over the bleeding man's forehead.
91. Used my personal time to promote for the business that employed me.
92. Too busy to take a break, and we're not allowed to eat behind the bar, so I eat my food cold at close to last call. I got here at 11 AM, so I'm desperately hungry.
93. Spent my own money at the business that employs me. I'm a customer, too.
94. During the lunch shift, a customer (a doctor) says, "See, a girl like her is good girlfriend material.. busy and grateful. Wouldn't get in the way of the wife." Like I wasn't even in the room. I did nothing.
95. Re-organized the walk-in and made sure nothing was past code or spoiled.
96. Didn't fake sick to get out of work, but couldn't get time off for being sick even if I was. I try to never miss work.
97. I don't like karaoke. But when I worked a karaoke night, I did it anyway to give the customers a good laugh.
98. Danced with one of my customers on his birthday. We have become good friends, and we both like jazz.
99. Struggled to pay my bills. Though I'm thankful for my customers, I wish they knew how their tip really pays my hourly wage for my boss.
100. A family member died this week. I go to work and tell no one how upset I am. We're supposed to "keep that shit at home".
101. I met a lot of wonderful people, hard-workers, and friends at work. I think we deserve to make at least minimum wage. But we don't. Our labor is paid $2.89 an hour.
101 things I've done (and do) at 2.89 an hour...

,