Think of it as the "Deepwater Wind" of health care: Innovation, starting in Rhode Island, that could be a model for the world. That's how revolutionary the concept of the Neighborhood Health Station could be, and the first one is being rolled out in Central Falls.
Perhaps overshadowed by a visit from actress Viola Davis, the groundbreaking for the new Neighborhood Health Station in Central Falls heralds the beginning of a new paradigm in health care, one meant to serve the needs of the community, not the convenience of the provider. The Blackstone Valley Community Health Care (BVCHC) Neighborhood Health Station will be located at 1000 Broad St in Central Falls, and will offer primary care, walk-in primary care, dental care, a pharmacy, physical therapy, pediatric care, occupational therapy, mental health services, Ob/Gyn services, radiology and more; serving over 14,000 patients and 50,000 visits a year.
Upon completion in 2018, the city of Central Falls will benefit from having "comprehensive services offered under one roof, where clinical professionals can collaborate face-to-face for improved care coordination" and "same-day sick appointments with convenient hours (8 am to 8 pm) on week days and additional weekend hours, enabling individuals and families to access health and medical services close to home, when it is most convenient for them."
BVCHC hopes to cover 90 percent of Central Falls residents. "Using medical records to identify at-risk patients, we will continue to collaborate using community resources and with the new health building, we are confident that we can improve public outcomes," said BVCHC Senior Clinical and Population Health Officer Michael Fine, M.D., who now also serves as Health Policy Advisor to the City of Central Falls.
Based on public meetings with residents, three public health priorities were identified: the community wanted their kids to be safe in school, they needed access to a gymnasium and they wanted better access to primary care.
Based on this input, the team designing the center identified five short term goals. Pregnancy prevention: BVCHC partnered with the school system and Brown University's Residency Program in Family Medicine to create a school-based health clinic at Central Falls High School to bring prevention and same-day clinical care to the adolescents of Central Falls and to reduce the rate of adolescent pregnancy through education and prevention programs. (Central Falls' high school pregnancy is 4X the state average).
Multidisciplinary management of individual cases: participants in this collaboration come from all facets of the community, including doctors, dentists, substance abuse, mental health, home care, housing, legal, needle exchange, immigration, transportation, social service, insurers and hospitals. Together, they meet bi-weekly to create customized plans to organize care for the people in Central Falls who are at the highest medical and social risk.
Mitigation of EMS use: people who use the Central Falls EMS more than four times a year have been identified, outreach has been made and they have been introduced to BVCHC where they can get help with medical, mental health and substance abuse issues and where referrals can be made for housing that they might need.
Access to exercise opportunities: The mayor now leads city walks to get people moving every two weeks (organized by Parks and Rec, publicized by BVCHC and housing authority and staffed by both parks and rec and BVCHC). A regular schedule of free busing from Central Falls (three pickup sites at Notre Dame and the housing authority) to the Pawtucket YMCA and to the Lincoln YMCA (for access to swimming pools) was introduced.
Identification of needs within public housing: the city's community health worker in public housing now brings individual situations and stories to the multi-disciplinary team about tenants, primarily the elderly who are most at risk, to the team to find solutions to their needs.
Innovation is desperately needed in health care. When we as a nation inevitably pass some form of "Medicare for All" single payer health care system it will be vitally important to keep costs down and people healthy. Neighborhood Health Stations point the way.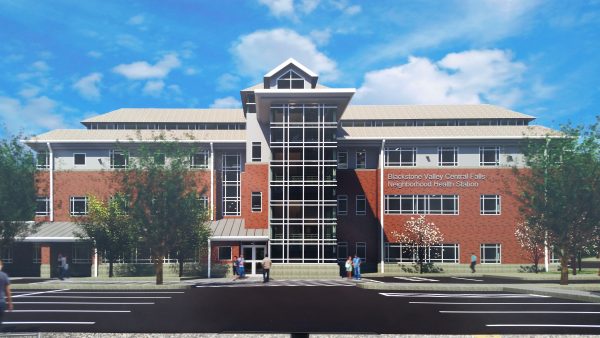 "None of us," said Dr. Michael Fine, former head of the Rhode Island Department of Health, "have ever lived in a place where it doesn't matter if you're rich or poor, black or white, whether you speak English or Spanish or another language, whether you walk, take the bus or drive a car, where it doesn't matter if you have papers or not, whether you can read or not, whether you walk on two feet, or walk with assistance… we've never seen a place in which everyone matters, in which we look out for everyone. Whether they came to the health center this year or not, whether they do what doctors recommend or not, whether they choose to live differently or not, we stand here today with a different vision: A vision of a place in which everyone matters. It's a vision of what Reverend Doctor Martin Luther King Jr. called 'a beloved community.'"
Below, watch Dr. Fine, former head of the RI Department of Health, explain the importance of Neighborhood Health Stations.
First Neighborhood Health Station breaks ground in Central Falls

,