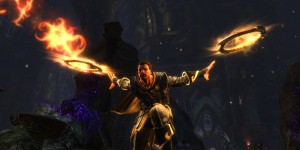 Everyone is certain to remember the controversy surrounding the 38 Studios $75 million loan guarantee deal.  I, for one, was concerned about the tepid clawback provisions in the deal that would let 38 Studios off with a $400,000 fine if it didn't create 400 jobs in the state.  In any case, Kingdoms of Amalur was released this week, and it has been receiving stellar reviews from all over the country.  Case in point is this glowing review from the New York Times.
Kingdoms of Amalur: Reckoning isn't just good. It sings with infectious, engaging excellence. This is a game that knows exactly what it wants to be, what it wants to provide and what its players will enjoy. Then it delivers with confidence, style and, not least, fun in abundance. Kingdoms of Amalur: Reckoning is one of the finest action role-playing games yet made.
I am very excited to play this game (although it's something I'll have to do after the semester ends).  And my hope is that the placement of 38 Studios downtown, and the co-location of Hasbro's children's video games division right next to it, could result (with some significant collaboration and organizing at the state level) a new business cluster in Rhode Island.
One of the most important things the state needs to remember is that cluster development takes a long time to form and grow – there are no quick fixes to the state's economy.  But the state can help in broader economic development trends by making strong connections among related and supporting businesses.  For instance, while the packaging was designed by 38 Studios, it needed to be created.  The manufacturing sector is still the 4th largest industry in Rhode Island, and it's likely that there are plenty of manufacturers that have the capacity to produce the packaging.  Likewise, the actual disks needed to be pressed.  Was there a local disk maker that could have been used?  Then there is the shipping and logistics, warehousing, etc., all of which is possible in RI with connections to air and rail freight.
I'm sure that all of these additional support businesses can be found locally in the state, keeping more of the wealth created by 38 Studios in Rhode Island. We have amazing artists and designers coming out of RISD every year.  And it wasn't an accident that New England Tech created a Video Game Design program. It would be nice to leverage these incredible assets to promote further economic development in the state, rather than just complaining about taxes and unemployment. Of course the patience and deliberation required for long-term growth runs counter to our political system and national culture of immediacy. Thinking about this as a 20 year strategy doesn't come easy, but wouldn't it be awesome if, in 2032, we can celebrate Rhode Island as the video game capital of America?

38 Studios, Kingdoms of Amalur, and Economic Development

,