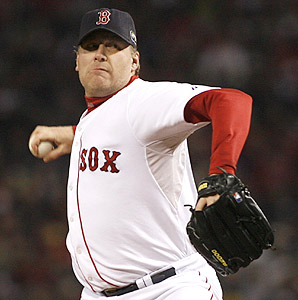 Curt Schilling was a magnificent baseball player for a number of years. He was instrumental in removing the Curse of the Bambino for the Red Sox, and who can ever forget the 'Bloody Sock'? Great stuff indeed. While it is evident that Mr. Schilling displayed significant talent on the diamond, his recent exploration into the world of business has come up a bit short.
Some pretty intelligent political and business types came up with the idea of giving the hard throwing Mr. Schilling $75 million to move his video game business to Rhode Island. Initially, a number of folk questioned this move but eventually their doubts were set aside and it was full speed ahead for 38 Studios.
Well, we all know what happened. The 38 Studios project appears to have fallen on hard times. Many in R.I. are asking why? Others are pointing fingers and assigning blame. I think all of this is a waste of time. The real question that needs answering is this: what did you think was going to happen?
You're telling me that a bunch of business types got together and the best they could come up with was – let's try the retired baseball star with little or no real business experience. How did this ever get by the Board Room? The equivalent would be having the highly respected business leader Gary Sasse being selected to start the 7th game of the World Series. Not gonna happen.
I'm hoping that somehow we will be able to sort all of this out. R.I. (and the country) is in the midst of a difficult financial crisis. We'll need smart people making sound business decisions to help navigate us through this mess.
I'm wondering if the ghost of George Herman Ruth is trying to get back at the Red Sox. Basically, the Curse Of The Bambino R.I. style. The Sox got off to a difficult start this year and now 38 Studios. This possible explanation makes as much sense as anything else we've been hearing.
Curt Schilling is obviously a pretty bright guy. He is an insightful baseball analyst. But maybe not an astute business leader. While he extolled the virtues of 38 Studios it was a number of local politicians and business leaders who bought into the concept. Now it appears as if the Ocean State has its own 'Green Monster' – only this one is financial.
I recently read that gambling revenue is our state's third highest source of income. Did you ever think that this and supporting 38 Studios would be among our best bets? I am sure we can do better than this. I am sure we can find ways to support our schools, promote real economic development and create an atmosphere of trust and cooperation amongst our political leaders. Right now its nothing but goose eggs. Not only are we experiencing a major financial problem we are also experiencing a leadership crisis as well.