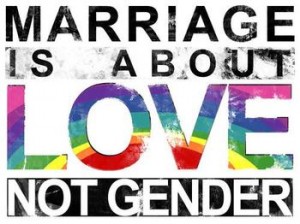 Today, 53% of Americans believe same-sex marriages should be recognized by law as valid (Gallup), and almost 70% of voters under the age of 40 support the freedom to marry.  Acceptance of civil same-sex marriage has been gaining more support over time, with a significant surge in the past two years.  According to Republican pollster Dr. Jan van Lohuizen, "The remarkable surge over the last two years can't be explained by generational change alone.  It suggests that people across the political spectrum are rethinking their positions—and deciding in favor of the freedom to marry."
Religious views on gay marriage vary and are not monolithic within any one group.  For example, nationally, 50% of White mainline Protestants and 59% of White Catholics favor gay marriage.  Twenty-two percent (22%) of White evangelical Protestants favor gay marriage while 38% of Black Protestants and 57% of Hispanic Catholics favor allowing gays and lesbians to marry (Pew Research).
In Rhode Island the public stance of the Catholic Church is against same-sex marriage.  But in Maine in 2012, for example, a group called Catholics for Marriage Equality published a Statement of Conscience (We Maine Catholics Say "Yes" to Same-Sex Marriage Rights) in newspapers throughout the state in support of secular marriage.   In part, the statement read: "Secular marriage is different.  It is, simply, a civil right.  It is not a civil right that compromises other civil rights; if this law is passed no religious institution or clergy person will be forced to marry any couple they do not wish to.  This proposed law is not about sacraments, or forcing religious institutions to act in any way that is not comfortable for them."
In 2012, the Maine vote in support of legalizing same-sex marriage was 53% to 47%, which totally reversed a 2009 vote of 53% to 47% against!  The New York state legislature approved a gay marriage bill in 2011.  The remarks of one Republican Senator who voted for the bill succinctly capture one approach to religion and gay marriage votes, "I am Catholic but I am NOT just Catholic!" Current same-sex marriage laws in 9 states (including all of New England except R.I.) and the District of Columbia protect religious freedom by explicitly exempting religious institutions from participating in any marriage ceremony that conflicts with their doctrines or teachings regarding who may marry within their faiths.
Surprising gay marriage religious tidbits pop up in the popular press from time to time demonstrating growing support.  In December 2012, a lesbian couple exchanged vows in the first same-sex wedding ceremony at the Cadet Chapel, a Gothic landmark at West Point and spiritual center at the U.S. Military Academy.  On Wednesday, January 10, 2013, the 106-year-old Washington National Cathedral announced it would begin holding nuptials for same-sex couples using a ceremony approved by the Episcopal Church.