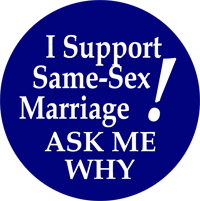 As an academic research psychologist I have closely followed the empirical research on the nature of same-sex couples, their families, and what the institution of marriage brings to any relationship.
One body of research finds that the psychological and social dynamics of gay and straight intimate relationships closely resemble each other. Like heterosexual couples, same-sex couples report a desire to form deep emotional attachments and commitments of long duration.
Both groups face similar challenges of intimacy, love, equity, and stability and go through similar processes to address them. Follow-up studies by independent judges could not identify whether the information came from homosexual women or men or from heterosexual women or men. Many other published studies provide no evidence that would justify discrimination against same-sex couples wishing to marry.
In fact, the 150,00-member American Psychological Association (APA) has passed a resolution in support of full civil marriage equality for same sex-couples and calls on states and the federal government to enact such laws. The resolution concludes that it is "unfair and discriminatory to deny same-sex couples legal access to civil marriage with all its attendant benefits, rights and privileges," and that, "there is no scientific evidence that parenting effectiveness is related to sexual orientation: lesbian and gay parents are as likely as heterosexual parents to provide supportive and healthy environments for their children."
Part of APA's strong support for marriage equality rests on extensive research showing the importance of the institution of marriage as a stabilizing force in people's lives in terms of psychological well-being, physical health, economic, social and legal benefits. Allowing same-sex couples to marry will provide public validation of the union as well as protection for children.
Maryland's Governor Martin O'Malley said his state's new 2012 same-sex marriage law will "honor the human dignity of families, whether the parents are gay or straight."  He further noted,  "It is not right and it is not just that the children of gay couples should have lesser protections than children of other families in our state."
The APA resolution and the research studies behind it have been cited extensively in court cases in favor of gay marriage.  For example, a district court judge, in a federal challenge to California's Proposition 8 law that defined marriage as a union of one man and one woman, found that "children raised by gay or lesbian parents are as likely as children raised by heterosexual parents to be healthy, successful and well-adjusted" and that the research "supporting this conclusion is accepted beyond serious debate in the field of developmental psychology."
Other professional organizations that formally support legal recognition of same-sex marriage include: the American Medical Association, the American Academy of Family Physicians, the American Academy of Pediatrics, the National Association of Social Workers, the American Academy of Child and Adolescent Psychiatry, and the American Psychiatric Association.
Academic Argument for Equality: Psychological

,