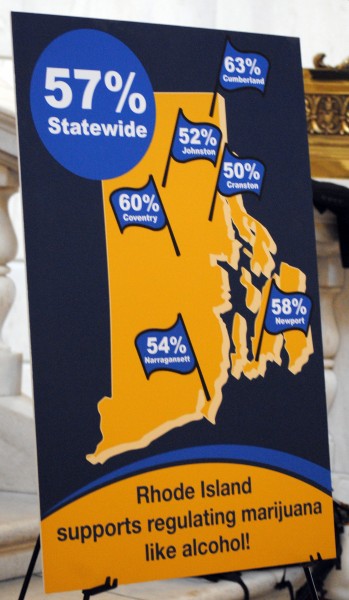 A new poll that shows a solid majority of Rhode Islanders are in favor of taxing and regulating marijuana in ways similar to alcohol.
Jared Moffat, executive director of Regulate RI, a coalition favoring to make Rhode Island the first state in New England to embrace a plan similar to Colorado, said at a press conference that the poll shows "a clear majority" of Rhode Islanders agree that "prohibition is the worst possible policy" and support legislation to tax and regulate.
"The Marijuana Regulation, Control, and Taxation Act creates a responsible alternative that proactively controls for public health concerns while allowing adults 21 and older the freedom to legally use marijuana if they choose," said Moffat, "Taking the marijuana market above board will create taxpaying jobs and allow the state to tax the distribution and sale of marijuana."
Moffat also introduced several new collation partners, including the Green Party, represented by RI Future contributor Greg Gerritt, and Jordan Seaberry representing the Univocal Legislative Minority Advisory Committee.
As an advocate for people of color, said Seaberry, he sees the "devastation" that prohibition wreaks on communities. The failed war on drugs, said Seaberry, results in mass incarceration, prisons and the militarization of the police.
The Reverend Alexander Sharp said that "Drug use is a health and education issue" that is not going to be solved by punishment.
Rebecca Nieves McGoldrick, executive director of Protect Families First, says that prohibition "separates parents from children" and "exposes families to drug war violence." she pointed out that Rhode Island has "already had a marijuana related homicide" this year, a death that taxing and regulating the product might have prevented.
Greg Gerritt said that the Green Party has supported legalized marijuana for over 30 years. Taxing and regulating marijuana would save money in the state by reducing the prison population, and that the taxes generated would allow the state to build things. As a crop, marijuana has many other uses besides as a narcotic, including clothing, food and machine oil.
The first state to do this in New England will have an advantage over the other states, said Moffat towards the end of the press conference. Rhode Island would reap big benefits in terms of jobs and taxes if we strike first.