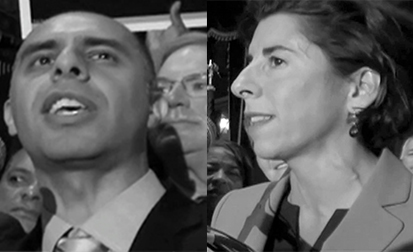 The votes have been cast and counted, the public has spoken and our officials have been elected. Before our new slate of state and local office holders start to govern, R.I. Future asked some of Rhode Island political experts for their advice and words of wisdom for Governor-elect Gina Raimondo and Mayor-elect Jorge Elorza.
Keep the healthy balance of family and professional roles you showed throughout the campaign. And always listen to your mother! – Lt. Governor Elizabeth Roberts (to Raimondo, specifically)
Surround yourself with good people and encourage them to disagree with you and each other. Communicate your vision to your team and let them execute it. Have measurements for progress and evaluate honestly. – Providence Mayor Angel Taveras

Never forget how much people are relying on you and the difference your work will make in their lives. Remembering this every day is the best way to remain positive, energized, and focused through the difficult decisions you will be required to make.

Don't forget the small things, they add up. From taking time to call on a family member's birthday, to speaking directly with constituents constantly, to writing personal thank you notes, or acknowledging the excellent work of a staff member; these gestures help remind you of the important things and help keep you grounded.

Be sure to hire smart, talented and reliable people who are willing to disagree with you. Surrounding yourself with dedicated staffers who will ensure your work is on the right track is essential to success. – – Congressman David Cicilline
Keep your promises, surround yourself with smart, hardworking people and never forget why you wanted this job in the first place. It's about the people of Rhode Island, and when you hit a roadblock, turn to them for support and guidance. – Congressman Jim Langevin
What advice would you offer our newly elected officials? Please comment below and let us know.