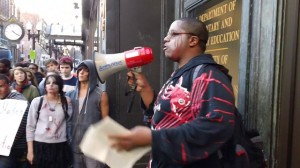 Some may scoff.
Others ignore.
But, the 'Pumpkin's Curse'
is something I saw.
So, sit back friends,
it's a scary tale
about what happens
when school kids fail.
This story, macabre,
has goblins and ghouls,
all of whom
prey on our schools.
The Curse of the Pumpkin
There once was a time.
There once was a place,
where teaching kids
became a race.
Where kids were tested
day and night
to see if they
could answer just right.
They raced in the cities.
They raced in the towns.
Each student was rated
either up or down.
In order to determine
who was the best,
folks at the top
had invented a test.
Called it the NECAP
and gave it much weight.
If you didn't pass it,
you'd graduate late.
Or perhaps worse,
not at all.
This test was given
each and every fall.
Those folks at the top
of a place called RIDE
looked at the testing
with all kinds of pride.
They talked about measures,
standards and failings.
They talked of how
those teachers were derailing
their efforts to test
each laddie and lass.
"How dare they," one stated,
"have each student pass."
Now, some of the children
from very rich schools
had little problem
playing RIDE's rules.
Many tested quite high.
Few tested quite low.
Most were quite sure
of which college they'd go.
It didn't quite matter
what they had learned.
All anyone cared
was the grade each kid earned.
But, for a number of children
it was hard to write.
They spoke different languages
or their wallets were tight.
And, when considering math,
those with special needs
were hurt worst of all.
Were hurt most indeed.
At a moment when things
where going so slow,
voices from Providence
told which way to go.
Students of Color
Hispanic and White,
all came together
to do something right.
They sang in the evening.
They spoke in the day.
Telling all listeners
testing wasn't the way.
Then lo and behold,
other strong voices
followed the students
extolling new choices.
Rumblings and bumblings
came from the top.
The boss of all bosses
said, "This has to stop."
So she sent out henchmen,
set down new rules,
fired some teachers,
closed some old schools.
Then, with all of this done
and much more said,
she brought out new pencils
loaded with lead.
More tests were ordered
rather than less.
Why this was done
'twas anyone's guess.
When all seemed lost,
at a point of despair,
an autumn wind
provided something rare.
You see, dear reader,
during this autumn season,
many things happen
despite any reason.
The Mets won a series.
The NECAPs are done.
Bizarre things happen
with the shortening sun.
Yes, a Halloween gift
from a power unseen
turned everyone at RIDE
back into a teen.
And, not only that,
this is what's best,
they were all forced to take
a standardized test.
When, surprise of surprises,
few of them passed,
each was ordered to
a remedial class.
For so many students
this nightmare is here.
Today's graduation requirements
are something to fear.
EPILOGUE
Ask no questions,
get no tales,
Gates and his buddies
all did fail.
And let's not forget
our friend Arne Duncan.
He too fell prey
to the 'Curse of the Pumpkin.'
The End (or is it?)