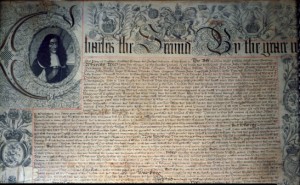 A "lively experiment" indeed.
Rhode Island's colonial charter, which celebrates its 350 anniversary this June, "holds a unique place in the evolution of human rights in the modern world," says Rhode Island College emeritus professor Dr. Stanley Lemons.
"When King Charles II approved the Charter in July 1663," Lemons writes, "it marked the first time in modern history that a monarch signed a charter guaranteeing that individuals within a society were free to practice the religion of their choice without any interference from the government."
Pieter Rods, of the Newport Restoration Society, calls our colonial charter, "the first document anywhere in the history of the English empire that guarantees freedom of religion as a matter of law. Religious freedom and separation of church and state both things that we think of as being very important american values and here they are first set forth in a Rhode Island document."
Both historians share their thoughts on our world-changing charter as Governor Chafee sets to unveil the state's plans to honor its birthday today at the State House. Hat tip to Andy Cutler for posting this video to Facebook yesterday.
According to a press release:
The activities to be announced include creating a new exhibit space in the State House, a State House gala, a series of educational events, as well as plans for the conservation and preservation of the Charter. Color guards, colonial militia, and an actor playing the role of Roger Williams will also be on hand for tomorrow's event.
The press release about the announcement notes the charter is the "source of the phrase 'lively experiment.'" Chafee uses this phrase often when combating the Christian dogma that often invades modern Rhode Island's political debate.
The announcement also comes one day after two RI Future correspondents (read them here and here) took issue with a GoLocal piece that said Roger Williams would be a Republican.