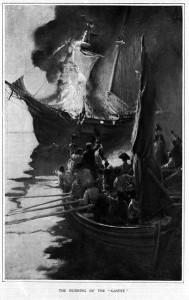 Every child who attended public school in Rhode Island and stayed awake during history class has heard the story of the Gaspee Affair, the first shot fired in what would come to be known as the Revolutionary War.
Massachusetts must have hired the better publicists, because everybody knows about the Boston Tea Party, in which little happened and no one was hurt, but no one outside our state knows about the Gaspée, in which a British officer was shot and a British customs ship was destroyed. This was the shot not heard around the world.
Every year in Warwick there is a Gaspee Day Parade, festival and symbolic burning of the Gaspée, celebrating the day, June 9, 1772, that a group of men lead by Abraham Whipple and John Brown boarded the HMS Gaspée after it had run aground in pursuit of the (smuggling) ship Hannah. The men shot Lt. Dudingston in the groin and burned the ship to the waterline. John Brown, of course, is (in)famous as both a founder of Brown University (then known as Rhode Island College) and a man who made his fortune through the inexcusable crime of slavery.
This is polarizing, legend-making stuff. Were the Gaspee attackers patriots and revolutionaries or were they smugglers, terrorists and mobsters? Was John Brown a great man who helped found one of Rhode Island's signature institutions or was he a genocidal monster? The right answer to these questions seems to be "all of the above."
A new documentary from Andrew Stewart, Aaron Briggs and the HMS Gaspée, attempts to answer these questions even as it deepens and expands upon the Gaspee history in exciting and unexpected ways. Drawing upon research and insights provided by former State Representative Ray Rickman, Carolyn Fluehr-Lobban, PhD and Professor Richard Lobban, Jr, PhD, the 22 minute film explores the involvement  of an indentured servant (a nice way of saying slave) named Aaron Briggs (or Biggs, sources differ) who was forced to fight alongside his white masters for a freedom his people would not be entitled to.
Aaron Briggs and the HMS Gaspee from Andrew Stewart on Vimeo.
As Fleur-Lobban asks in The Bridge, a small newspaper circulated around Pawtuxet Village, (her piece is available to read on-line here) "Would an indentured or enslaved person have mixed emotions and motives in both his obligatory and voluntary participation in the anti-colonial activism of the American Revolution?"
Here in Rhode Island, like elsewhere in the United States, we have difficulty talking about slavery and the economic advantages conferred upon those who invested in the practice that continues to pay dividends to their descendants even today. It seems likely that a full accounting of the Brown's family's legacy will never be fully realized until every last penny of slavery tainted money in spent or laundered. This is a shame, because in denying or whitewashing our history, we sacrifice hard truths for easy legends, and minimize the real struggles of real people to achieve something like equality.
At the screening for Stewart's movie, held Wednesday night at O'Roarke's Bar & Grill, there was a lively and spirited debate about the idea of re-examining our past. One audience member suggested that we shouldn't judge those, like Thomas Jefferson, who owned slaves, by our modern standards and sensibilities, to which Representative Rickman answered, "Even then, people knew that slavery was wrong."
That's true. The majority of those debating the adoption of the United States Constitution wanted to see slavery abolished, but they made a devil's deal with those states in the slave holding south that depended on the institutional dehumanization of an entire race of people for their economic prosperity, (never mind those states, like Rhode Island, that also profited mightily from the practice.) The deal resulted in the catastrophic and deadly Civil War nearly ninety years later and the the civil rights battles of the last century. We feel the repercussions of slavery and our country's insufficient attention to the evils of racism even today.
But back to the Gaspée. Andrew Stewart has made his film available for viewing online, and it is well worth a look for it's more expansive examination of a key part of Rhode Island and United States history.
Aaron Briggs and the HMS Gaspee

,