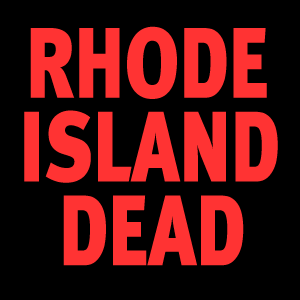 I'd love to say that Aaron Renn's recent hit piece in City Journal is total trash, but it's not. While I dispute his basic thesis that "progressive policies" have caused Rhode Island's problems, I agree that…we got problems. I also agree with some of the reforms he suggest, think some are hogwash and have other alternatives of my own. [Skip to / read to the end to learn what the headline is all about…]
This essay is a critique of Renn's piece, not a takedown. Your Frymaster hates to disappoint, but I gotta call 'em like I see 'em. Granted, this piece is badly skewed to the audience—Righty. Normally, Renn is thoughtful and realistic. (WARNING: some kinda horrible ad thingee might happen if you scroll that homepage.) Even shilling for Righty, he makes some solid points.
That said, I have three basic criticisms:
He cites taxation statistics without analysis; that is, he never asks, "Why did this seem like the best thing to do?"
He cherry-picks his sources and, by error or ignorance, fails to make important connections.
He wrongly asserts that progressive policies or "unions" are responsible for many egregious abuses and failings, when cronyism and corruption are clearly the cause.
Taxation without analyzation
Early on, Renn gets at the various tax lists where RI is a negative standout—business rates, total state and local burden, etc. You know the list. But he fails to spend a single word on how this state of affairs came to be.
If there's one thing you should know about taxes in Rhode Island, it's this: the taxes we're NO LONGER collecting are the real problem. Our tax structure is woefully outdated in that it is predicated on a manufacturing economy. If we had even 20% more manufacturing, just the sales taxes alone would largely heal our fiscal problems.
That's right: sales tax.
Few who don't run their own business that deals in hard goods know that the sales tax covers the sale of any physical object by anybody in RI to anybody EXCEPT for direct resale. That means that any raw material, component or subcomponent was taxed at each step in the supply chain up until the finished good went from manufacturer to wholesaler to retailer. The forge that cast metal gearing paid sales tax when they sold the components to watch-maker Spiedel. This is much like the value-added taxes in Europe.
This still exists today, but because so much manufacturing has left the state and because so little of the manufacturing supply chain that remains is exclusively within Rhode Island's tiny borders, this accounts for a much smaller portion of total state revenues.
As this contribution decreased, other contributions filled in the gap. Thus the General Assembly raised business taxes and personal income taxes, and when the GA eventually cut state aid, municipalities raised property taxes.
Were there other options? Could legislators have chosen some other path? Indeed, and I'll cover that in the section on reforms.
Also—and this really is an glaring oversight—Renn fails to connect the high tax structure to the obvious fact that Rhode Island is located in the one of the most expensive neighborhoods in the US. Everything costs a lot.
Plus, the climate degrades our infrastructure in all the worst ways. With a giant salt water bay in the center of our small land mass, all the steel decays more rapidly. No state but possibly Delaware or Hawaii has a higher percentage of its major infrastructure in close proximity to salt water. And neither of those states has a winter like we do!
Long story short: the GA didn't create this tax structure to kill businesses. We got here for many, many reasons.
It's the people who make place
Renn's audience for this piece is a national network of free-enterprise conservatives, so basically, they have no idea who any of the quoted people actually are or what the various agencies do. In brief, they're clueless on the specifics. But he should have figured that someone in Rhode Island would read this thing and call him on his errors of commission and omission.
The first individual Renn quotes is Rob Atkinson, former director of the Economic Policy Council. This is notable not for the person but the agency. The EPC has been gone since around 2008, and more's the pity. Then-governor Don Carcieri eliminated this highly-competent group, giving their policy planning authority to the Economic Development Corporation over which the governor had much more control. And I guess we all know how that turned out…
A bit later, Renn quotes Hasbro Chairman Al Verrecchia and Banneker CEO Cheryl Sneed, putting them off as business people who must navigate the byzantine regulations of anti-business Rhode Island.
What he leaves out is that both Verrecchia and Sneed sat on the EDC board of directors. In fact, Verrecchia was chair. (Or chair pro-temp as the governor was the chair.) Both of them voted in favor of the 38 Studios loan guarantee. So perhaps we take their input with a grain of salt.
There's a theme here, and it's Don Carcieri. As governor, he was a disaster. Despite overseeing an enormous economic boom, his eight years in office yielded a net LOSS of jobs. We lost every job we gained and them some.
Worse than that, there were jobs we could have created that Carcieri and Verrecchia directly blocked. These would be jobs in residential solar installation, an industry that Carcieri fought aggressively. As a result, Rhode Island is miles behind our neighbors in installed capacity. And, if you can believe it, the GA may actually try to roll back some of the recent gains. (Indeed, as Renn says, "in Rhode Island, bad ideas are bipartisan.")
The real problem is cronyism
Here, Renn gets off to a good start, but fails to put the pieces together. It could be he doesn't see it, but I know he's smart. So that leaves shilling for ol' Righty as the most likely cause. Whatevs…
He rightly points to corruption in the state's earliest days, and follows it up through the 20th century. Oddly, he refers to the previous GOP regimes as a "Tammany Hall-style political machine" but never uses that term for the Democrats who held sway since 1935.
And this—as every long-suffering Frymaster reader knows—is the essence of the problem. Republicans or Democrats, it really doesn't matter. A machine is a machine is a machine, and the machine is going to do its machining until it gets taken apart.
So it seems disingenuous for Renn, who's usually so thoughtful, to pin a blatant case of insider corruption involving the North Providence Fire Department on "union might." Union or no, cronies take care of cronies. It's what makes them CRONIES!
Granted, there has been a high level of shenanigans associated with certain public employee unions and irresponsibly favorable contracts. But here Renn overreaches in claiming that unlike the first two centuries of corruption that plagued Rhode Island, now it's because of unions.
One other beef
I have other issues with this piece, but I'll only bore you with one. Renn cites RI as having the most land-use regulations, but he fails to mention that we also have the LEAST LAND. With a sensitive salt water bay that suffers from nearly every bad development decision, restrictions on land use show good stewardship.
Also, if these regulations prevent development, how is it possible that the economic boom of the 00's was predominantly due to housing construction? Rhode Island's boom was above average and our bust was above average, a fact Renn seems not to know.
Reforms: Renn's and mine
Renn offers several reforms, and some have merit. Amazingly, he doesn't advocate cutting the sales tax, instead targeting loopholes in the unemployment tax that give breaks to favored industries. Specifically, seasonal tourism is an industry built on scheduled layoff, yet they pay in much less than they take out. That kind of nonsensical cronyism should be the target of every Rhode Islander.
He points to Quonset Business Park as a model for development, but seems to miss the most salient point of differentiation. Yes, it has ready-to-build parcels. Yes, it has a streamlined regulatory/permitting regime. But it also has this: competent management!
Good management is far too rare at all levels of government in Rhode Island (see above, EDC), and that needs to change. Renn even says that Quonset "smartly self-financed port improvements…" When you can put "smart" in any sentence about actions taken by even a quasi-governmental agency in RI, it's something special.
Predictably, Renn says RI should "reduce the size of government," not mentioning that it is already badly hollowed out. If only he had suggesting "realigning" government to reduce overlap and put human resources where they're needed, he might have been on to something.
His biggest miss, in my opinion, is in his "politically palatable" "grand bargain" on revenue-neutral tax reform, in which income taxes are modestly raised on top earners in exchange for business-tax reform…" First, revenue-neutral is not good enough; RI needs revenue.
More importantly, his "grand bargain" isn't very grand; it's tinkering at the edges. To really fix the revenue/expenditure equation, RI needs to seriously consider more radical ideas:
— Levy a business services tax in phases, say 0.5% per year for four years. A 2% tax on services would be insignificant to most transactions but would yield a large amount of revenue
— Build a toll on I-95 even if it means going to war with US DOT; Renn condemns RI for its poorly-maintained infrastructure but mentions neither the single most obvious fix nor the reason it is not in place today
Musical coda
In lampooning the famous "I never leave Rhode Island" meme, Renn quotes the URI fight song thus:
We're Rhode Island born,
and we're Rhode Island bred,
and when we die,
we'll be Rhode Island dead
I doubt quite seriously that these two songs are connected in any way, but I can't let that go without…
Rhode Island Dead by Rhody's own…the adorable…Benny Sizzler!