The Rhode island ACLU today launched the "first of a series" of lawsuits aimed at the current trend of municipalities to criminalize poverty and homelessness. At issue is Michael Monteiro, a 57 year old disabled man who until recently supplemented his disability payments by asking for money on a median strip in Cranston, holding a sign that says, "disabled, need help, God bless."
On June 30 a Cranston police officer wrote Monteiro a court summons for soliciting money. The charge was ultimately dismissed, but the judge ordered Monteiro to stay away from the area or face arrest. This was Monteiro's second run in with this law in Cranston, after having been arrested twice for the offense in Providence, where he lives.
Attorney Marc Gursky, representing Monteiro, says the ordinance prohibits individuals from soliciting for money, but is selectively enforced against people like Monteiro, and not against fire fighters, cheerleaders or little league teams. Monteiro said that when he sees the cheerleaders on the median where he usually solicits donations, he leaves for the day.
Gursky also alleges that the ordinance violates the free speech clause of the Constitution. It cannot be against the law to ask for help, or to request money. If the issue is truly one of traffic and safety, says Gursky, the city should address the problem of traffic and safety, not free speech.
Megan Smith, an outreach worker and case manager with House of Hope's PATH program, said that cities and municipalities across the nation are dealing with the problem of homelessness and poverty by criminalizing those who are homeless and poor. Arrest places the burden of a criminal record on those affected, making it more difficult to get people the help they need.
"Poverty should make us uncomfortable," said Smith, but these ordinances are attempts to hide the problem from sight, not to help people.
Steve Brown, executive director of the RI ACLU, said that there is no timeline on when future lawsuits will be undertaken on this issue, but that Providence and Pawtucket both have similar ordinances, and both cities could face such lawsuits. Finding plaintiffs is difficult, because people in Monteiro's position face a lot of discrimination and it takes real courage to commit to such a suit.
As for Monteiro, he used to make $20-30 standing on the corner for about an hour, which is as long as his legs could endure. He hasn't returned to his spot since the judge's order, and as a result, "I have to do without…
"I have about $11 to get through the rest of the month," he said.
Edit: Shortly after the post went up, I was asked how someone might get some money to Michael to help him while he's waiting for this case to resolve. Steve Brown said that the ACLU can accept donations to him as long as the donations are clearly marked as being for him at this address:
American Civil Liberties Union of Rhode Island
128 Dorrance Street
Suite 220
Providence, RI 02903
If the donation is not marked, they'll probably assume the donation is for the ACLU, which is not a bad investment.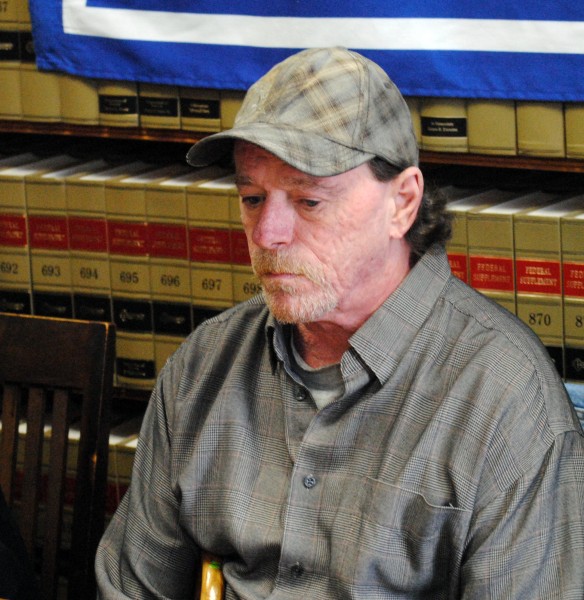 ACLU launches first of a series of lawsuits against criminalizing poverty

,