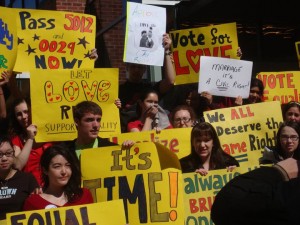 Only 68 Rhode Islanders have applied for civil union licenses since the state passed a law allowing same sex couples to obtain these relationship licenses in lieu of full marriage equality in 2011, according to numbers the RI ACLU said it got from the Department of Health.
When a similar law was passed in Hawaii, 106 same sex couples applied for civil union licenses, and in Deleware 85 applied in the first month, according to the ACLU.
From the ACLU press release:
There are a number of explanations for why Rhode Island's statute has been shunned so thoroughly by couples. A major reason was the adoption of an extremely broad "religious" exemption in the law, known as the "Corvese Amendment," that significantly undercuts the law's purpose. The amendment essentially allows any religiously affiliated institutions or employees of those institutions to disregard the validity of a couple's civil union. In addition, four of the five other New England states authorize same-sex marriage, highlighting the second-class status of civil unions for Rhode Islanders.
House Speaker Gordon Fox said he intends to get a marriage equality bill passed through the House during the next session but it's still unclear if a same sex marriage bill would pass in the Senate.