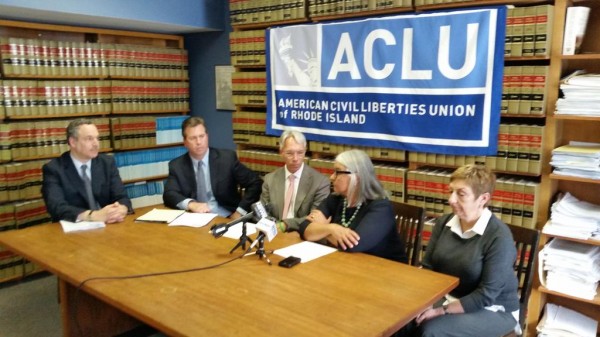 The American Civil Liberties Union of Rhode Island (ACLU) today filed a class action lawsuit in U.S. District Court to challenge the constitutionality of a recently enacted law that makes it a crime for certain sex offenders to reside within 1,000 feet of a school. As part of the suit, the ACLU has requested a restraining order to halt the law's "inconsistent" and "arbitrary" implementation before any more individuals are uprooted or made homeless.
The new statute, passed overwhelmingly in the Rhode Island House of Representatives under the leadership of Speaker Nicholas Mattiello, is unconstitutional on three grounds, says Attorney John MacDonald, who filed the suit with Attorney Lynette Labringer today.
The statute is unconstitutionally vague, says MacDonald, with no definition of what constitutes a school in the law. Further, there are no guidelines offered as to how to measure the 1000 feet required under the mandate. Different law enforcement agencies use different systems operating under different parameters. A resident might be told he is safe by one agency, only to be ordered to move by another.
The law is unconstitutional because it violates due process. Level 3 sex offenders are banished from their property and their liberty under this statute, says MacDonald, and they have no recourse to a hearing unless they want to be arrested and charged in violation of the law.
The third constitutional violation occurs because under this statute, people who have already paid for their crimes are being further punished in having to move under threat of arrest.
The statute does not increase public safety, says MacDonald, and the homeless advocates in attendance at the press conference all agreed with this assessment. It is better to know where level 3 sex offenders are living, "but we have uprooted them and sent them to Harrington Hall, the only place that can house them."
Jim Ryczek, who heads up the Rhode Island Coalition for the Homeless (RICH), is in full support of the lawsuit. "We are proud to have helped keep communities safe," said Ryczek, adding that the three factors that keep people from re-offending are stable housing, employment and treatment. The law, if it is allowed to stand, threatens all three of these factors.
Not only is there no evidence that this law might help Rhode Islanders, this law "may have an opposite effect" says Ryczek.
Sol Rodriguez, executive director of OpenDoors, read her statement, saying, "People affected are being forced out of their apartments; some are homeowners, have families, are sick, disabled, and some live in nursing homes. Some are family caretakers. They have served the sentence imposed for their crimes and are known to law enforcement due to sex offender registry laws. This law will further destabilize this population."
Jean M. Johnson is executive director of House of Hope CDC which manages Harrington Hall. Presently, this is the only facility that can house homeless, level 3 sex offenders in the state. During Wednesday night's rain storm, "160 gentlemen inhabited Harrington Hall," she said, "we are a 120 bed facility. We have always had level 1, 2 and 3 offenders stay with us. We are the shelter of last resort, we don't turn anyone away."
On Monday night, when the law is to be in full effect, 30 level 3 sex offenders could show up at Harrington Hall, in Speaker Mattiello's district.
The new law, says Johnson, is "unjust and unfair."
Beyond the issues of constitutionality and public safety, says Steve Brown, executive director of the RI ACLU, the law makes no sense. Many level 3 sex offenders were convicted for crimes against adults, and against adults they knew personally. These men are presently allowed to travel near and be around schools, but under the law are not allowed to keep in an apartment near a school, when the schools are empty.
As far as simply finding an apartment elsewhere, this is not really an option, said Jim Ryczek. Many landlords will not rent to a level 3 sex offender. Finding an affordable location that satisfies the 1000 feet limit in the amount of time available is all but impossible.
In Providence, 30 men have been told that they will have to move. A reporter at the press conference said that Speaker Mattiello was "getting pressure" to address the situation at Harrington Hall, but Jean Johnson said that no one from the Speaker's office has reached out to her.
More information is available here.
ACLU sues state over level 3 sex offender residency law

,