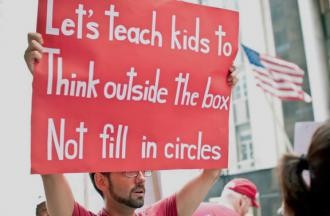 The stakes are being raised if the state wants to push ahead with using the NECAP test as a high stakes graduation requirement. The policy of using the school assessment test to assess individual students used to just be unpopular, but it will soon also be the subject of lawsuit brought by the RI ACLU.
Executive Director Steve Brown said this morning that the public would have to wait for a event later this morning to learn about the specifics of the lawsuit. We'll post more information on this as it is available.
"The  lawsuit is a follow-up to a petition that 17 organizations signed last month calling for an end to the high stakes test mandate," according to an email from the ACLU yesterday.
The ACLU and others have said using the NECAP test as a high-stakes graduation requirement violates the civil rights of special education and English language learners.
In May, Education Board Chairwoman Eva Mancuso told RI Future that the Board would reconsider using the NECAP as a graduation requirement.
The NECAP test as a high-stakes graduation requirement has become a flashpoint in public education politics in Rhode Island, as many of the arguments against the test have gained traction during Deborah Gist's high-profile contract debate. Here's how the ProJo described the flashpoint in an article published this morning:
Opposition to the testing requirement has gained momentum over the past six months, with students, parents and teachers arguing that the test is unfair, especially for urban and minority students who they say haven't been adequately prepared, especially for the math portion of the test.

Educators have faulted the test because they say it was not designed to be used as a so-called high-stakes test.

The General Assembly recently passed a non-binding resolution expressing its objection to linking the NECAP to a high school diploma.

State Education Commissioner Deborah A. Gist has come under heavy criticism for her refusal to back down on the testing mandate, and, at one point, her fate in Rhode Island appeared tied to the NECAP. She recently received a two-year extension of her contract after a protracted closed-door discussion by the Rhode Island Board of Education, which oversees K-12 and the state's three public colleges.