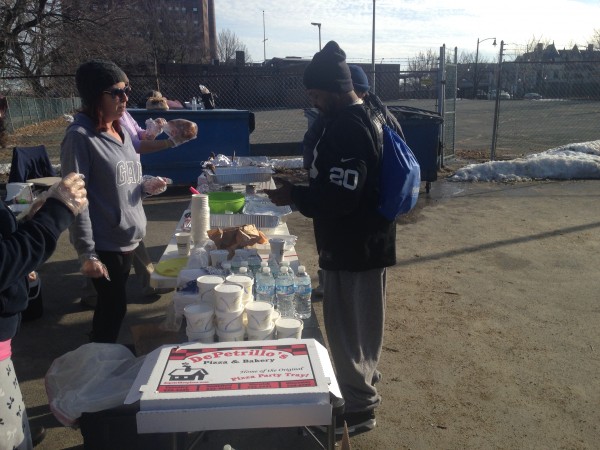 Activists previously affiliated with Occupy Providence were out on Saturday afternoon feeding the homeless at the parking lot of All Saints Memorial Church in Providence. This followed continued resistance from the administrators of Burnside Park, original intended site of the feeding, who have been rolling out a series of policies that encourage harassment of the homeless, including a tobacco ban.
Along with serving food, there was distribution of clothing and blankets. Artemis Moonhawk, one of the organizers, said the following.
We are currently fighting City of Providence over them denying us a permit to feed folks inside the People's Park on Saturdays due to fact that one woman who runs the events inside Burnside has decided she doesn't want the homeless to gather at said events. They gather there anyway while waiting on the buses and because city closed the day center we of Occupy Providence negotiated to get opened and left park when doors where opened.

Have been feeding in some way weekly since got back in May. In fact Heather called cops on us during the beer fest last summer but luckily our park ranger who loves us intercepted the call and canceled because he was right there and said not doing anything wrong. Otherwise cops would have rolled up on us. Got harassed for five hours and babysat by cops after they watched my hubby drive away. When he was out of sight I was surrounded by five officers, four male and one female who proceeded to say needed permit to hand out donations.

I politely told them the Commissioner said could be there they then said he didn't have the authority needed to do that. (Crazy yes) Also said that religious groups don't need permits to do so. And said they would arrest me if I handed out anything. Once Commissioner Pare got out of news conference he came down hugged me and straightened it all out. We've been feeding inside park every Saturday nice hot buffet. When blizzard was coming we did in fact apply for permit and were denied.

Heather said she was contacting the Health Department and police about us. Had to scramble and find a new spot. Reverend Ames at All Saints Memorial Church without hesitation gave us his parking lot. We fed there during blizzard and again yesterday. Currently looking for indoor spot so far no luck. But we are also determined to somehow get back inside the park without getting arrested.
EDITORIAL NOTE: A previous version of this story incorrectly said that Johnson and Wales University had purchased the Crossroads homeless shelter building. We apologize for the mistake.