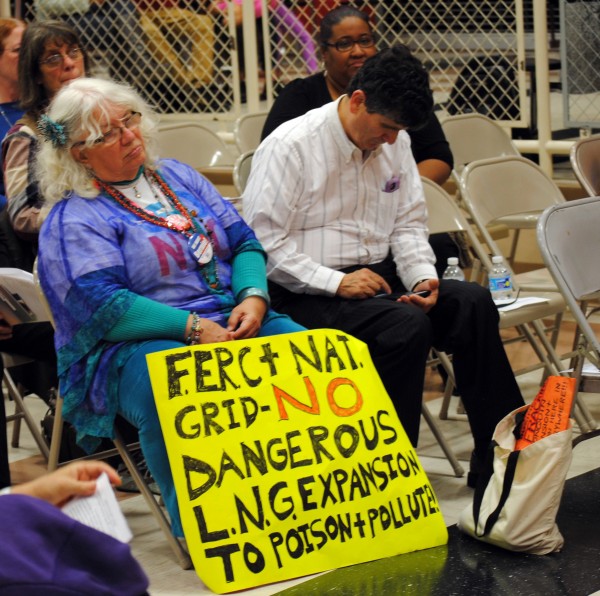 Spectra Energy is not planning to build a liquified natural gas (LNG) storage facility in Burrillville alongside the controversial compressor station and near the site of Invenergy's planned $700 million fracked gas and diesel oil burning power plant. The Burrillville Town Council evealed at their Wednesday night meeting that when Spectra submits their official FERC pre-application for the project on July 22, it will be Acushnet, MA, not Burrillville, that will be forced to fight against yet another fracked gas infrastructure nightmare in New England.
The existence of Spectra's plan came to light when the Burrillville Town Council released the agenda for the July 13 meeting, which included item 16-200 "Correspondence from Spectra Energy regarding Algonquin Gas Transmission LLC – Access Northeast Project (Pre-filing Docket No. PF16-1-000) relative to potential construction of a liquefied natural gas ("LNG") storage facility in New England."
This project is yet another addition to the expansion of fracked gas infrastructure in New England. Page 4 of the Supplemental Project Information Filing for Spectra's Access Northeast Project (FERC Docket No. PF16-1-000) released in April 2016, reads "As part of this Project, Algonquin will upgrade and expand the existing Algonquin pipeline system and construct a liquefied natural gas storage facility in New England to deliver, on peak days, up to an additional 925,000 dekatherms per day ("Dth/d") of natural gas."
This same document, on page 11, lists Burrillville as an alternative site for the facility, noting that further expansion of pipeline capacity might be needed due to its location.
4.2.2.1 Burrillville Site Area

Algonquin began evaluating alternative sites as far west as its Burrillville Compressor Station, which offers a large site already owned in fee by Algonquin. The Burrillville, Rhode Island alternative site is located adjacent to Algonquin's existing Burrillville Compressor Station. Due to its location, any LNG service that would be pulled into on the G-System and Algonquin's mainline pipelines from the proposed LNG facility site would have to be pushed from the alternative site at Burrillville using Algonquin's mainline pipelines that, to this point in the Project development, have been designed to carry 195,000 Dth/d. The location of the LNG site at Burrillville would require that Algonquin's mainline pipelines carry an additional 225,000 Dth/d for a total of 420,000 Dth/d. To render the same service as that provided by the proposed Access Northeast LNG Facility site (Acushnet, Massachusetts), additional upgrades would be required including: the installation of a total of approximately 17.7 miles of new pipeline (8.1 miles of additional 36-inch diameter pipeline at the Burrillville Compressor Station Discharged 9.6 miles of 30-inch loop on the G-1 System); plus additional horsepower at the proposed Rehoboth Compressor Station.
At Wednesday's Burrillville Town Council meeting, Town Manager Michael Wood said that there were two locations being considered in Burrillville, the one adjacent to the compressor station mentioned above and another location "off Barnes Rd." Council president John Pacheco III cautioned those in attendance that the information looks good for Burrillville, but that no one will definitively know Spectra's plans until July 22.
Repeated calls to Spectra's media hotline on Tuesday and Wednesday went unanswered, save for an email that Thanked me for my interest, answered none of my questions and referred me to Spectra's Algonquin Northeast Project website.
Of course, just because the project isn't being built in Burrillville doesn't make this a win. Acushnet already has an LNG storage facility, and this will be a second one, or possibly an upgrade.
"This project shouldn't be built anywhere," said a Burrillville resident to me after the meeting.
Acushnet, not Burrillville, targeted for Spectra LNG storage facility says town council

,