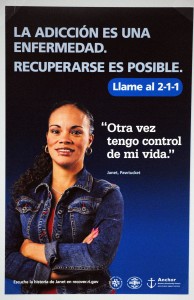 The Departments of Health (HEALTH), Behavioral Healthcare, Developmental Disabilities and Hospitals (BHDDH) and the Anchor Recovery Community Center held a press conference today to announce the launch of a new media campaign, "Addiction is a Disease. Recovery is Possible."
The ads cover television, radio, billboards and the sides of buses. There is a website. The powerful ads feature eight local men and women who tell their stories of addiction and recovery. Though many share their personal stories of addiction, one woman, Elise, speaks from the point of view of a mother who lost two sons to overdose.
Holly Cekala, executive director of RICAREs (the group that staged a "Die-In" outside the State House earlier this week) pointed out the wide range of ages, races and economic level of those in recovery and told me that the community she serves, and is a part of, is the most diverse community there is. Addiction, it seems, does not discriminate.
Anchoring the event and introducing the speakers was Jim Gillen, Director of Recovery Services at the Providence Center / Anchor Community Center. Gillen has been in long term recovery since 1998 and "As a result, my life is banging, let me tell you," he said to the audience, "It's the reason that I'm employable, it's the reason that I pay taxes, that I drive with a license and insurance… and I vote."
Dr. Michael Fine, director of HEALTH, said that the point of this campaign is to let "every single Rhode islander know that addiction is a disease." This is a "campaign to bring Rhode Islanders together."
There were 232 overdose deaths in Rhode Island last year. People have already died this year. "With each death," says Dr. Fine, "a piece of Rhode Island dies."
Dr. Fine revealed that another aspect of this campaign is designed to raise awareness among doctors and others with the power to prescribe opiates about their responsibility in curbing this epidemic, as well as bringing more accountability to the pharmacies that fill the prescriptions. "We need to change our prescribing behavior," said Dr. Fine.
Linda Mahoney of BHDDH sees this campaign as a means of combating the stigma that addiction carries. She commended the eight people appearing in the ads for having the courage to face this stigma head on in an effort to change the hearts and minds of the wider community. It takes courage, said Mahoney, "to come out professionally and publicly and say, 'I know I was sick. I got better and there is still work to do.'"
"The idea is to overcome stigma, to treat addiction as a disease like any other disease," said Mahoney.
Jonathan, one of the eight featured in the ads, started with a joke, "When I was told that this campaign would mean having my face plastered on the side of a bus, I said that this wouldn't be the first time I was plastered on a bus." But he soon turned serious. His was a story of addiction that lead to crime and estrangement from friends and family.
It ultimately led to his death, but he was saved by an injection of Narcan. Waking up in the hospital, Jonathan's first thought was to score more drugs, but he learned that there were people out there who "loved me more than I loved myself."
Jonathan has been in recovery for 19 months. He is repairing his relationship with his family, has a job and is paying the debts he accrued during his addiction. Still, addiction haunts him. On Wednesday he attended a funeral for a 22-year old friend, one of the first overdose deaths in 2015.
Elise spoke next. She is a nurse who has worked in recovery since 1998. Her son Paul died at the age of 22 in 2004, and her son Teddy died at age 30 in 2010. "Who would have thought it would happen to me?" Elise asked, "You can't have your blinders on."
'We can't arrest ourselves out of this problem," said Dr. Fine during the question and answer session, observing that addiction is a medical, not law enforcement problem. Jim Gillen, wrapping up the event, seemed to concur. "We may have lost the war on drugs," he said, "but we will win the war on addiction."
Below are all eight videos produced for the campaign.
"Addiction is a Disease. Recovery is Possible." campaign launches today

,