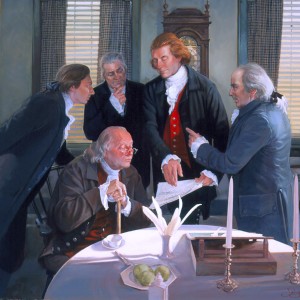 After reading the comments regarding the prayer banner in Cranston, I would like to add a few comments.
To begin: any sentence that contains "the founding fathers believed/thought/said/wanted/intended/were, etc is necessarily wrong.
Yes. wrong.
The founding fathers were not a monolithic bunch. Exactly the opposite.  They were a group of men, many of whom had long years of experience in politics in some form. As such, as a group and for the most part, they understood the necessity of compromise. Not all of them; there were some doctrinaire ideologues, especially in the earlier days, but they were weeded out as time passed.
A great example of this is Sam Adams–whose father was a brewer, by the way. He played a major role in the early days of the protests that led up to the outbreak of fighting, but he did not have the political chops to play any role in congress during the war.
So, to say that the founding fathers were not Christians is wrong. This is the fallacy of composition, ascribing traits of component parts to the whole group. To say they were Christians is doubly wrong.
Many were devout Christians.  However, Thomas Jefferson is probably best described as a theist. He believed in a Higher Power–the Creator of the Declaration–but he did not believe Jesus was divine. In fact, he created his own edition of the New Testament. He retained what Jesus said, but cut out all references to miracles, including the Resurrection. Not to believe in Jesus' resurrection means you are not, and cannot be, called a Christian. Belief in Jesus' divinity is the sine qua non of being a Christian.
Ben Franklin would probably also best be described as a non-Christian theist.  George Washington and several others were Masons, which is nominally Christian, but with a number of beliefs that would not pass muster with either the Pope or the Southern Baptist Conference.
It is also important to recognize that, after the Revolution, a number of the several states had established an official religion.  However, this created problems for minority religions. For example, Virginia was officially Anglican (now Episcopalian). This meant that the Episcopal Church was subsidized by the state. For many, who belonged to minority sects such as Baptists, found this problematic for numerous reasons.
Note also, that, in the body of the constitution, Madison made no express mention of religion, one way or the other. That he chose not to is highly significant. He did not want the federal government–or state governments–to have an official religion. Hence the careful wording: Congress shall make no law. This ensures that, well, Congress shall make no law to establish any one religion.
At the time, this meant the various flavors of Christianity. The federal government was not to promote Catholicism over Episcopalianism. However, the wording is such that it is not restricted to various forms of Christianity. It can apply to establishing Christianity per se as a religion. Take this, along with the Equal Protection clause of the 14th Amendment, which sought to guarantee that the individual states could not deny the recently freed slaves their new rights as full citizens, and you come to the situation where we are.
Because of this amendment, no individual state can establish a religion, just as no state can deny a citizen the right to vote. This also means that it is unlawful for public tax money to be spent on religion, or for any organ of the state to promote a particular religion. Hence, the law is such that a public school cannot promote any religion. And it's also important to recognize that atheism is a religious belief, even if it's negative. So to promote theism over atheism is not permitted under the constitution.
I hope this is clear, and I apologize for the length.
Additional Thoughts on the Cranston Prayer Banner

,