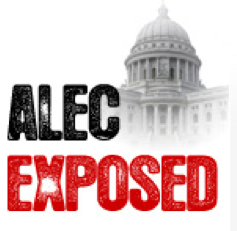 Is the era of ALEC in the Ocean State coming to an end? It certainly looks like it.
It may have seemed for a short while that 2012 was going to be a banner year for American Legislative Exchange Council here. Rep. Jon Brien, a Democrat and a member of the House leadership team, was added to the right wing bill mill's board of directors and a one in five state legislators were members.
But things haven't gone so well for ALEC here in Rhode Island since then.
Not only did Brien lose his bid for reelection – twice, in fact, once in the primary and again in a write-in campaign in the general election – but Sen. Frank Maher, an Exeter Republican who was the other state ALEC chair, lost too. That means ALEC's two primary points of contact to the General Assembly are no longer members of the General Assembly – talk about cutting off the head.
Brien and Maher weren't the only local ALEC members to suffer defeat. So did Republicans Larry Ehrhardt, Dan Reilly and Glen Shibley. Add to that list Michael Savage who didn't seek reelection and ALEC lost 6 members in the state legislature in this election. That's a reduction of 25 percent.
If you factor in the two legislators who dropped out back in the spring – Sens. John Tassoni and Walter Felag – ALEC's membership in the General Assembly has decreased by a third since news broke that Brien was on the board of directors.
Rhode Island isn't the only state where ALEC took an electoral licking. In nearby New Hampshire, five of the 31 ALEC members lost reelection. In Minnesota, 11 of the 26 ALEC members lost and in Arizona 14 ALEC members lost.
While ALEC is down here, it might not be out. Conservative Democrat William Walaska could keep the RI ALEC/DINO tradition going, and look for Doreen Costa to assume the mantle from Brien in the House.
ALEC Membership in RI Reduced by a Third

,