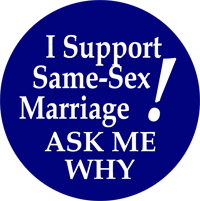 I am a social psychologist and Emeritus Professor at the University of Rhode Island. For 17 years part of my teaching and research involved the study of gay and lesbian issues.  Much of this work centered on marriage equality for same-sex couples, which I continue to study and advocate.
I was impressed by Governor Chafee's pledge to seek legislation for same-sex marriage as a contemporary reflection of Roger Williams' view of our state as a vibrant, diverse, welcoming community. He correctly noted that marriage equality would not only "honor our forefathers who risked their lives and fortune in pursuit of human equality" but would also make a positive contribution to our economic climate.
In a series of posts this week, I will offer a succinct sample of recent economic and psychological research that strongly buttresses the case for same-sex civil marriage that you so movingly supported at your swearing-in.
Tthe psychological and economic research and public opinion polling provide impressive support and encouragement for same-sex marriage, the larger legal foundation for recognizing gay couples is the crucial base for full equality.  Simply put, civil marriage asserts that loving gay relationships are worthy of the privileges and responsibilities that come with civil marriage.  Gay couples deserve equal protection of state laws and public validation of their life together that marriage brings.
New Hampshire Gov. John Lynch said of his state's law, "We are standing up for the liberties of same-sex couples by making clear that they receive the same rights, responsibilities–and respect–under New Hampshire law."  Maine's previous Governor John Balducci said their law reaffirms the separation of church and state and "guarantees that Maine citizens will be treated equally under Maine's civil marriage laws and that is the responsibility of government."
It is long past time for all branches of Rhode Island state government to show the same courage and civic responsibility of these two New England governors with respect to same-sex marriage and finally approve a same-sex marriage bill of our own.  Such a move will not only link our state to other social and economically progressive forces across the country, but will also identify us as a place where people can live out their lives with respect, support and dignity.
We could make Roger Williams proud!