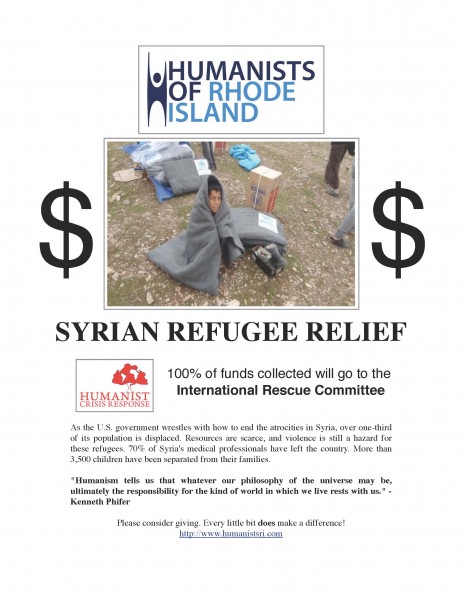 The Humanists of Rhode Island (HRI) learned last week that our group has won 2012's Heart of Humanism Rookie of the Year Award for Best Team Added in 2012.  This is an award given annually by the Foundation Beyond Belief, a "a 501(c)(3) charitable foundation created to focus, encourage and demonstrate humanist generosity and compassion."
HRI was recognized because of our monthly work with Habitat for Humanity, where we help build houses on the second Saturday of every month, (feel free to join us, whatever your philosophical orientation might be) our participation in Light the Night, a walk to generate money to combat Lymphoma and Leukemia, (you can contribute to our cause here), our four time a year highway clean-ups in Cranston and our infrequent blood drives, among other things we do.
The Heart of Humanism award came with $50 in prize money, which the group has decided to donate to the International Rescue Committee's efforts to aid Syrian Refugees, and we're sweetening the deal by raising more funds for that effort. Don't be surprised if you see a couple of Humanists with buckets collecting money at Saturday's "No War on Syria" rally at Burnside Park from 1-3 pm as well. (But if you can't make it there you can always contribute to our efforts by clicking on the photo that accompanies this piece or following this link.)
Too often, when big things are happening on the national and international scene, we can feel hopeless and small. When that happens we have to look to ourselves and work together to make the world a better place. A few dollars given today may help change the life of a child thousands of miles away tomorrow.
An alternative to war: Syrian Refugee Relief

,