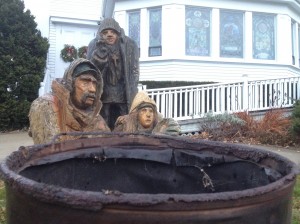 Wiping the tears from his eyes, David finally spoke. "It's good to see you. What can I do for you?" Somehow David knew it would do no good to ask how Gabe had found him, so he let that question go unspoken.
Smiling, Gabe said, "I need your help, David. I am sure you saw that couple in the vacant lot just a couple of blocks away. The woman has just given birth and they could use some assistance."
"What do you want me to do, Gabe? I have very little money, I can afford only my one small room, and I am not supposed to have guests overnight," David replied. If the truth be told, David really didn't want to get involved or be burdened with responsibilities. Who knew what this couple would want or demand.
"David, this is a great couple and a child to die for. The miracle of birth is a power that can light up any darkness. Just stop by and say hello. You know, a kind word and a smile are also gifts we can give. I know you will do the right thing."
And with those words, Gabe turned, walking out of the store and into the night.
"What am I going to do?" David thought to himself. But just as quickly came the reply, "What else can I do?" And with that he called out to Jack, the security guard, telling him he had to run an errand for a friend and would be back soon. Just as he was about to leave, David had a thought.
He went back to where he had been stocking the shelf and grabbed a bag of disposable diapers. After going to the cash register and paying for the diapers, he picked up a couple of flattened cardboard boxes. With the cardboard boxes under one arm and diapers in hand, David walked through the door. Spotting a shopping cart on the sidewalk, he place the boxes on the bottom of the cart, threw the diapers in on top, and pushed it in front of him in the direction of the vacant lot.
Jose heard the shopping cart's wheels long before he could see it. As the sound came nearer, Jose stood to see what it might mean. He watched closely as the cart and the man pushing it continued in their direction. Jose and Maura stared wordless as the man and cart halted in front of them. They did not know what to think or say. Before them stood a man with long, dark, straight hair, pulled back in a ponytail. He wore a heavy plaid flannel shirt with a Walgreens vest over it, blue jeans and boots. His face had the angular features, weathered skin and smooth shaven face of a Native American.
David spoke first. "Hi, my name is David. Gabe asked me to stop by and say hi." He wasn't sure why he had mentioned Gabe. It had just sort of slipped out.
A shudder went through both Jose and Maura when David spoke of Gabe. "Gabe?" Jose questioned. "A tall African-American? Dressed in black?" David nodded. "You know Gabe?" Maura continued.
David shrugged. "We had met before, and he just showed up at the store a little while ago. He told me I should stop by and say hello. Said you were a great couple, with a wonderful child. He thought you might like company. I brought a cart. Thought you might be able to use it as a crib. I put some cardboard in for insulation. Also thought these diapers might come in handy."
"Thank you!" said Maura, warmly. "You are very kind. We welcome your visit." "What's the baby's name?" David asked.
"Hope." Jose replied.
It was as if the air had been knocked out of him. David stared from Jose to Maura to Hope. Hope. In this dark, cold, desolate place, in this miserable condition and yet they name their baby Hope. He looked again from Jose to Maura to Hope. And then David understood. He was touched in a way he could not explain by this place and this birth. He felt the love that overcame the darkness and the misery.
Shaking Jose and Maura's hands good-bye, David returned to work filled with joy. He did not know completely what it all meant, but he knew that he had found Hope.
____________________
Editor's note: Check back here tomorrow for the next installment in Rev. Bill Sterritt's modern adaptation of the nativity story. RI Future is serializing Sterritt's 26-page short story throughout the holiday season.  Here's my post on the Amicable Congregational Church's nativity story and scene.