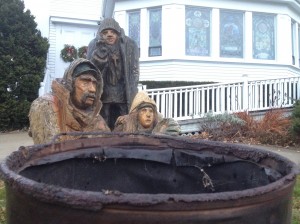 "Jose!!" Maura's scream was filled with all the fear, pain and uncertainty of childbirth. On this clear, starlit, wind chilled night, with her water already having broken, Maura was about to give birth.
Jose panicked as reality began to set in. It was becoming almost too much to bear. "This is crazy!" he thought. "How am I supposed to help deliver a baby – here, in this cold, in this filth?!"
He had not felt this alone and scared since he had first crossed the border so many years ago. His thoughts were racing now. Why had he agreed to let Maura accompany him? This wasn't his child anyway. Visions? Virgin birth? Preposterous!
"Yet," he said to himself, a calmness beginning to slow his heart rate, "Maura has always been honest with me. Her faith is real. Now is not a time to begin questioning." In fact, Maura's faith had renewed Jose's own. Over time her gentle manner seemed to calm Jose's quick temper. Her daily prayers were never intrusive, never for show, never judgmental.
In the months they had been together, Jose's relationship to Maura had changed from protecting a needy woman to wonderment, almost awe, and even, as he thought about it now, to love. Yes, Jose had come to care for Maura very deeply and he knew now for certain, what was felt but had gone unspoken before, he would accept Maura's child as his – if she would let him.
Maura screamed again. When the pain subsided, Maura looked up at Jose with fear in her eyes. "Jose," she said, "I'm scared. It hurts so much. I didn't know it was going to be this terrible. What am I going to do?!"
Jose knelt beside her and, as much to reassure himself as her, said, "You are going to have a baby. We are going to have a child. I am here with you and together, with God's help, everything will be okay." Then stroking her forehead, he continued to speak to her in a calm, reassuring voice, trying to get her to relax a little, telling her to breathe deeply and slowly.
Jose was anything but relaxed himself. It was no longer the coming birth that was bothering him. He was struggling to keep his anger under control. Just two hours ago they had left the hospital emergency room. They had waited over four hours to see a doctor. When they were finally taken to an examining room the doctor said that Maura was not yet dilated. She told them despite the first signs of labor it could be days before the child was born. They would have to leave and come back later. Jose began to argue with her, but Maura did not want to make a scene, so they left.
____________________
Editor's note: Check back here tomorrow for the next installment in Rev. Bill Sterritt's modern adaptation of the nativity story. RI Future is serializing Sterritt's 26-page short story throughout the holiday season.  Here's my post on the Amicable Congregational Church's nativity story and scene.