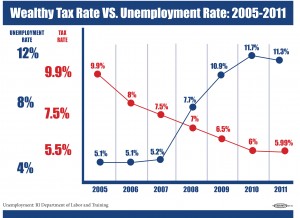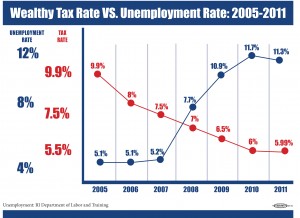 The experiment to build our economy with tax breaks for the wealthy continues to be an epic failure. A healthy middle class grows the economy, not giveaways to rich and powerful.
We're gearing up for another year at the State House to ensure all residents pay their fair share in taxes, not just you and me. Can we count on you to help?
Tell Governor Chafee Rhode Island can no longer afford unsustainable tax breaks for the wealthy.
After years of tax breaks for the wealthiest Rhode Islanders, our state's  unemployment rate has grown to the second highest in the country, working families are paying higher property and car taxes, and deep cuts have decimated funding for education, infrastructure, transportation, and services for Rhode Island's most vulnerable populations.
Despite significant legislative and public support Governor Chafee has blocked efforts to end the failed tax cuts to the wealthiest Rhode Islanders during his time in the Statehouse. It's time for change!
That's why Ocean State Action is teaming up with Rhode Islanders for Tax Equity (RITE is a coalition of labor and community groups fighting to restore tax equity) to call on the wealthiest Rhode Islanders to join the rest of us in rebuilding our economy.
CLICK HERE to Tell Chafee to end tax breaks for the wealthy in his budget this year.  
It's time to get Rhode Island back on the right track, join us today!