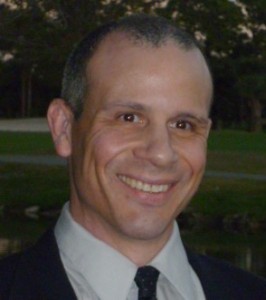 My name is David Vogel, and on November 6, my name will be on the ballot as an Independent candidate for Congress from the First Congressional District for the State of Rhode Island.
Being raised in a New York-style Jewish household meant that, nearly by default, my upbringing would be modern liberalism with a healthy integration of old-world sensibilities; growing up in Rhode Island ensured that I would be a Democrat.
Then why am I running as an Independent?
Observing our government in action has led me to the conclusion that even for the most progressive of people, being a part of one of the two main parties is a stifling experience. If you "belong" to one side or to the other, you are expected (if not required) to do the party's bidding; this is made worse by the mounting evidence that each of the parties is expected (if not required) to do the bidding of the industries that are throwing the most money at Congress via the process of lobbying. There is no room for overall progress because, for those to whom the word "service" is not an empty pair of syllables, the opportunity to solve problems through thought, common sense, and collaborative effort is replaced entirely by party-driven rhetoric and propaganda.
A federal government has the responsibility of acting as a steward for a nation, and is not supposed to treat its constituents as little more than a convenient resource to be exploited. As long as big money dominates politics, it is nearly delusional to believe that by simply complaining loudly enough, "We The People" somehow will get entrenched partisans to understand that something better is being demanded.
This is why, in concert with my view of what it means to be an Independent, I am not asking anyone for any money. My inherent inability to flood the airwaves with canned sound bites and vacuous platitudes means I must find some other way to get your attention. But that's o.k., because I would rather give you a reason to like me…. it's just how I think. I believe there are people out there who will appreciate that rather than hide from the issues or dodge their questions or ignore their concerns, I will discuss anything you like, will give you my unvarnished opinion, and will not be afraid to say to you "I don't know enough about that issue to give you an answer at this moment, but will be happy to resume the dialogue after I perform the research necessary to educate myself appropriately."
Our nation likes to remind itself that innovation, along with a never-say-die attitude, is an enormous source of our collective pride; that same principle should apply to how we choose our public servants. If you are of the opinion that partisan politics is failing the people of this nation, and if you believe that the focus of government must be upon "we" instead of upon "me," then I ask you to veer away from partisan politicians, and to vote for a candidate whose only obligation would be to the voters.