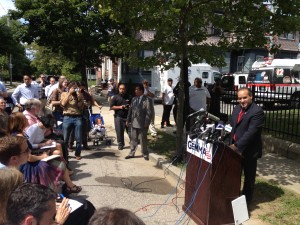 First, I'll admit that I didn't watch the press conference yesterday. I have seen plenty of the media aftermath though. The impression I get is that candidate Gemma's accusations of voter fraud are being swept under the rug, and the whole affair is being framed as a media stunt. Even if it was only designed as a way to garner attention for a flagging campaign, it was a success.
However, I think there might be a little more substance to the unsubstantiated allegations than we want to admit. I'll take a few moments from my own campaign to pile a little more conjecture on top of the pile of Gemmapalooza. After all, it's not altogether unrelated.
As much as it was about public relations, I believe that Gemma's campaign was intending to hasten the speed of the state's investigation of the voter fraud charges. Investigators are likely to put more emphasis on the case with the added pressure of both the media and Doherty's campaign. Raising the issue now also lays the groundwork for a legal challenge to the primary results if they turn out to be close.
We should all be concerned about whether there is and has been tampering with Rhode Island's elections. To me, the most probable and meaningful fraud would be the deceased voter scenario. There are many proven occurrences of the dead rising to cast votes (for Kennedy in Chicago famously), and to my knowledge there has never been a serious investigation to see if it's happening in Rhode Island.
With a long entrenched and dominant Democratic machine in the State, Rhode Island would be fertile ground for such fraud. Former AG James O'Neil thinks so evidently, and I'm not sure he would risk tarnishing his reputation without good reason. If it is discovered that we have a lot of zombie voters, I don't think that the crime will be pinned to Representative Cicilline. It is more likely to fall on the state Democratic Party.
All in all, I'd say that Gemma's antics are going to once again hurt the Democrats' chances of hanging onto the District 1 seat. The silver lining will hopefully be that we have a more honest election.
ps- As I read it, the horrendous Voter ID law we have would do little to stop the occurrence of the dead voting, as I expect they would mostly be mail-in ballots. The law does not specify that anything more than the mail-in ballot application needs to be submitted to the board of canvassers to vote. Am I reading the law wrong?
An Independent Take on Gemmapalooza

,