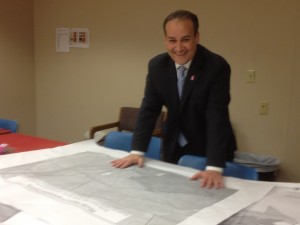 The campaign to represent Rhode Island's first congressional district in Washington DC will surely be the most interesting and scrutinized local race this year and, so far, there is only one thing that is certain: Anthony Gemma won't win.
He could, however, potentially damage David Cicilline enough in an ugly primary to leave the incumbent vulnerable to the real challenger, Republican Brendan Doherty. But he won't win. Not even the primary. No way. Not gonna happen. No chance.
First off, Gemma has absolutely no institutional support, which is crucial in a primary. At Friday's annual local Democratic Convention, his nomination didn't even garner a second, reports Will Collette in an excellent piece on the event in Progressive Charlestown. Collette writes:
When it came time for nominations, one delegate, who said she grew up as a friend of Gemma's back in the day, stood to put his name in nomination. When Party Chair Ed Pachecho asked, not once but three times, if  any delegate would second the nomination, not one delegate among the 200+ would do so.

That leaves me to wonder how Gemma can claim to be the only electable Democrat for the First Congressional District when he can't organize up a second to his nomination among 200+ Democrats. His supporters yelled out "democracy, democracy" when his nomination failed for lack of a second, but minutes later, they all filed out of the room.
But it's more than just Gemma's lack of support that makes him a bad candidate; he's also just a bad candidate.
Last election, as a rookie, he ran as a pro-business fiscal moderate and this time he is claiming to be more progressive than his very progressive opponent – it paints the picture of a flip-flopper politically and at best an unknown variable on policy given that he's never held office before, or even shown much interest in the process until a few years ago.
He's also a pretty poor public speaker, a disaster at dealing with the local press pool and far less than adroit at answering questions on his feet. His latest gaffe was not taking a hardline on Nazi Germany in a recent interview with the RI Progressive Democrats.
Note to all pols: when asked about Hitler or the Nazis, it's totally okay – if not a necessity of political survival, to throw them under the bus.
For these reasons as well as many others, we implore Anthony Gemma to drop out of the race. He cannot win; he can only do damage to the party he says he supports and, truth be told, he's kind of embarrassing himself.
Which is too bad, because Gemma is a smart, super hard worker who is genuine and good and who wants to do right by his community. Electoral politics just doesn't seem to be his bag.
I expect he'll find more far more success if and when he starts some sort of local liberal think tank or online media venture – either would suit his skill set better than running for office, probably would have a greater impact on Rhode Island and could be done for a fraction of the cost. And, he'd get to be a hero rather than a spoiler.
Anthony Gemma Should Drop Out of CD1 Race

,