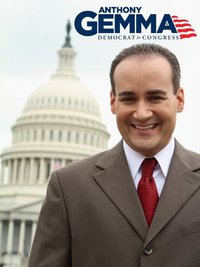 Anthony Gemma is running for U.S. Congress as a Democrat. He hasn't formally announced yet, but it's pretty clear.
For instance, type "Anthony Gemma" in any search engine. See the first result? "Anthony Gemma for Congress 2012." He's also taken a leave of absence as CEO of Mediapeel after selling it to Alex and Ani. Mr. Gemma needs to stop beating around the bush and announce already. The ongoing speculation feels like it's being used as an attempt to drum up buzz, and it's not helping him. He has been running since he lost in 2010. We know this. I saw Facebook advertisements back in 2011. Mr. Gemma has been attacking U.S. Congressman David Cicilline since the latter took office, every chance Mr. Gemma gets. It's long past time for him to announce.
Unfortunately for Mr. Gemma, Democrats don't want him. Maybe it's the fact he only affiliated with the Democrats when he decided to run for U.S. Congress the last time. Maybe it's that, as WPRI's Ted Nesi put it on Newsmakers, "he's sounding more like a Governor or an EDC chairman" than a congressional candidate. Joe Fleming also makes clear in that video that Mr. Gemma has almost no support from the left or the establishment wings of the Democratic Party, and even his support among its right wing will be shaky. The Party will lock shields around Mr. Cicilline.
Mr. Gemma doesn't belong in politics. He belongs in business, where he can at least hide somewhat from public view and people are less inclined to challenge him openly. Unfortunately for the all-but-declared primary contender, politics is a public process, where scrutiny comes at you whether you want it to or not. Which is why it's interesting to see that the candidate's campaign page on Facebook suddenly leaped up in likes during the month of February.
Just as interesting are the subscribers to his personal page. Who are the 20,000+ people subscribed to Anthony Gemma's Facebook? And here's a better question: what's up with many of their unusual names? And why do most like "Unicorn City Film" as a movie? Or why do Kevin Ubtryvh and Heideo Uthrdl have the same 16 friends (and only 16 friends), the exact same likes in sports teams, music, books, movies, and television, and yet somehow aren't friends and grew up and went to schools in completely different places? Why are a large majority of their friends sporting the last name "Hic" or else some slight variant on that? Is Penix Jermainebrianne even a real person, or should her parents (assuming they exist) simply be examined for naming her such? Why do so many of Mr. Gemma's Facebook subscribers follow this basic pattern of an odd first name followed by a last name made up of two names which are usually first names?
Mr. Gemma is about to go up against David Cicilline, a well-financed opponent who has a strong base of support among the Democratic Party apparatus. But Mr. Cicilline may have the money and ground games ready, he doesn't have anything like Mr. Gemma's Facebook numbers; totaling a mere 3,456 likes (this is comparable with numbers put up by Senator Sheldon Whitehouse). Mr. Gemma racked up 41,764 likes on February 23rd alone (a date he issued a press release attacking Mr. Cicilline; this doesn't usually brings tens of thousands to click "Like" on one's Facebook page). Looking just at his Facebook numbers, Anthony Gemma should be Rhode Island's most popular politician. Which is why he sits 13 points behind Republican candidate Brendan Doherty in the latest WPRI poll (in comparison, Mr. Doherty has only 5,523 likes).
Now, there's no conclusive proof that Mr. Gemma is not popular in Germany, Spain, Indonesia, and Dubai; countries where many of his subscribers are from. There's no conclusive proof that Corinem Yers doesn't exist (he's also a fan of Unicorn City Film). But these people don't show up on a Google search in any other place except Facebook. In contrast, most people tend to at least show up  somewhere other than Facebook, because they have lived full lives. Examples include websites for their colleges, or their jobs, or in newspapers, or even the online white pages. Maybe those following the not-yet-a-candidate are merely people who are so cloistered from modern society they're only allowed limited Facebook access. And maybe Anthony Gemma appeals to those people. In which case, he should be applauded to reaching out to a forgotten segment of our society.
But alternatively, people (especially those who are a bit tech savvy) could take a look at this and come away thinking one thing: Anthony Gemma is utilizing bots to inflate his social media numbers. Even if that's not true, the appearance is what matters. Anyone looking for big numbers is going to think that more likes on Facebook equals a better candidate. But therein lies a problem. If your social media followers aren't dedicated, if they aren't real, then you've just lost a social media battle. To technologically competent people, nothing's worse than a social media phony. People might begin to think like Facebook user Alex Avalos, who put it thusly to Anthony Gemma: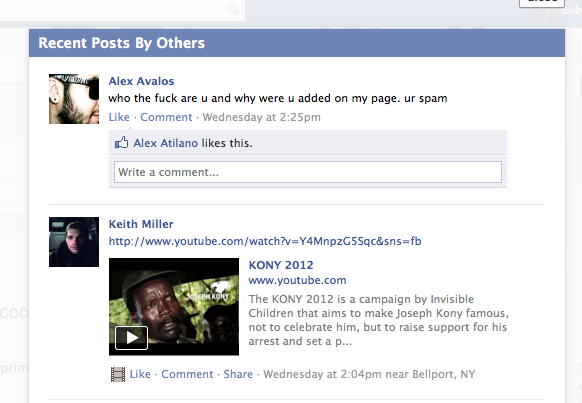 ______________________________________________
Updates: RIFuture has attempted to contact Mr. Gemma for a response, but so far, he has not yet responded.
Sadly, an astute reader has pointed out that the Facebook account Penix Jermainbrianne no longer exists.
We also have been getting some emails and Facebook responses about this story. Readers have pointed out that Mr. Gemma's Twitter followers are likewise odd, and he seems to be able to rally online support in online polls. Last election cycle, the Providence Journal's PolitiFact was unable to conclusively evaluate claims made by Mr. Gemma's campaign about his status on LinkedIn. Likewise, a couple of readers have said this recalls late last year when Republican Presidential candidate Newt Gingrich was revealed to have followers who were roughly 80% dummy or inactive accounts. However, that was evaluated to be not far off from a standard political account. The second-to-last paragraph of that story leaves us with the idea that we should apply caution to all online interactions and not take things at face value.
So there is no smoking gun to suggest that Gingrich, or any of these politicians, bought any of their followers. But what this kind of analysis also reveals, says Topsy [a social media search company], is how hard it is to say which Twitter accounts are for real and which aren't. Spam bots are getting more sophisticated; many now have fake profile pictures, fake bios and generate fake tweets. "The fact is, a large proportion of all Twitter accounts are inactive anyway," says Ghosh [Topsy co-founder].