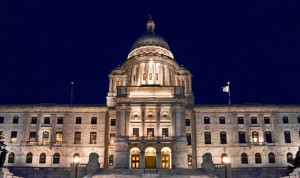 Right now there is no statute regarding the licensing of genetic counselors in Rhode Island, opening the door for those without appropriate training and codes of ethics to exploit and potentially harm patients. Fifteen states have licensure laws, and seventeen more have bills in consideration or preparing to be introduced.
On Wednesday, a Senate subcommittee discussed a bill that could make Rhode Island the 16th state to permit counselors to give advice about their potential medical future based on what can be gleaned from their genes.
Rhode Island's bill was crafted by Senators Perry, Nesselbush, Sosnowski, Miller and Pichardo. It is a fine bill and has the complete approval of the National Society of Genetic Counselors.  Genetic Counselors from Rhode Island are keen to see the bill passed, as it speaks to their professionalism and commitment to proper patient care. Passage of such a bill should be an easy slam dunk, as it will prevent patients from being victimized by the unscrupulous and the improperly educated.
So of course this bill can't be passed by our General Assembly. Why? Because anti-abortion rights activists have stymied the bill for years. Let that sink in. For years versions of this bill have been advanced, only to be continually sidelined by activists like Barth E. Bracy, Executive Director of Rhode Island Right to Life, who said, in 2010:
Genetic counseling can be used for good or for evil, in the same way that fire can be used to cook food or burn down a house. Insofar as genetic counseling can be used in order to enhance and sustain human life and well being, it is a good thing. And we agree that the State of Rhode Island has an interest in regulating the practice of genetic counseling… Our primary concern regarding the Genetic Counseling Licensure Act is to include at least some conscience protection for genetic counselors who do not accept abortion as a valid treatment option in cases where some disability or undesired trait is possible, probable, or even present in an unborn child.
The position statement of the National Society of Genetic Counselors is quite clear on the issue of reproductive freedom:
REPRODUCTIVE FREEDOM: NSGC supports the right of all individuals and couples to make reproductive choices. These include using information from genetic counseling and/or testing to decide whether to pursue a pregnancy, to utilize assisted reproductive technologies, to prepare for the birth and future needs of their offspring, to make an adoption plan, or to end a pregnancy. NSGC firmly believes that reproductive decisions should be made in the context of unbiased and comprehensive information, free from discrimination or coercion.
As a result of this conflict between the medical professionals of the NSGC and the anti-abortion zealots represented by Bracy, a so-called conscience amendment was added to the bill:
5-86-8. Counseling concerning abortion.- Nothing in this chapter may be construed to require any genetic counselor to participate in counseling with respect to abortion, nor shall licensing of any genetic counselor be contingent upon participation in such counseling with respect to abortion, and the refusal of the genetic counselor to participate in such counseling with respect to abortion shall not form the basis for any claim of damages on account of the refusal or for any disciplinary or recriminatory action against the genetic counselor, provided that the genetic counselor clearly informs the patient, in a manner consistent with ethical standards… that he or she will not participate in counseling with respect to abortion and offers to give the patient a list of licensed councilors in the state. The genetic counselor's disclosure of non-participation and offer of a list of other licensed genetic counselors shall be made at the start of the counseling relationship and at other appropriate times, if any, based on the genetic counselor's professional judgement.
Steve Brown, Executive Director of the Rhode Island ACLU, noted, in a letter to Senator Perry that this amendment:
…Would allow genetic counselors to refuse to counsel "with respect to abortion," a counselor could potentially use this as an opening to, for example, withhold information about potential fetal abnormalities from women who are pregnant or considering becoming pregnant. A counselor could, by omission, mislead a patient about her options when serious fetal abnormalities are detected late in the pregnancy. A counselor could even suggest that no other options are available, but so long as the counseling was otherwise "consistent with ethical standards," the amendment could appear to immunize the counselor from any state regulation or sanction.
In other words, it seems that the bill to license genetic counselors, with this amendment intact, would do nothing to assure the public that genetic counselors are professionals bound by a code of professional ethics to serve the best interests of their patients, because the bill will contain a loophole that will allow potential licensed genetic counselors to place their own consciences above that of their patients rights and needs. As a result, the ACLU proposed small modifications to the language, but these modifications could not win the support of Bracy's RIRTL.
Speaking at the subcommittee meeting Wednesday evening, Benjamin Brown, a 4th year medical student speaking on behalf of Medical Students for Choice, put it quite well:
What concerns me here is that you have heard from the genetic councilors in the room that it is not within their code of ethics not to discuss abortion. And you have heard from other people speaking today that that is a professional requirement. So why would it be necessary to include this language about not talking about abortion if people are going to be acting within their code of ethics of their profession which states that they must discuss abortion? So to me this language makes no sense, it has nothing to do with professional regulation, and it has nothing to do with the professional standard practice of the profession of genetic counseling. It has to do with the fact that there are people who want to restrict access to abortion. This language has no purpose except to give an anti-choice genetic councilor room to hide behind a legal excuse for not providing information about abortion when the code of professional ethics says that you should have given that information, they can say, "Well, but I practice in Rhode Island." [emphasis mine]
We should be clear at this point: The genetic counselors in Rhode Island would greatly prefer a clean version of this bill bill, one without the amendment, but so desperate are they to get some sort of licensing structure approved that they are willing to make a deal with the devil. They are willing to take the bill with the amendment. But what they might not realize is the precedent they are setting here. Paula Hodges, of Planned Parenthood, said it well:
There is a broader concern …  that with the approval of such an amendment this committee will have all but formalized the practice of allowing legislation regarding liscensure in the medical field to be held hostage until the wishes of those opposed to abortion are considered and incorporated into the bill's language.
…
We know that the Rhode Island ACLU has offered specially crafted improvements to this language which has not been adopted. Regardless, should this committee approve this amendment, with or without improvements, we head down a path where we all meet in these hearings, year after year, as each type of profession seeks to routinely improve or expand its scope of practice. The irrelevant demands of abortion opponents will need to be placated year after year.
The genetic counselors of Rhode Island are just following their code of ethics in capitulating to the unreasonable and irrelevant demands of anti-choice zealots like Barth Bracy and RIRTL. They are seeking to protect the interests of their patients at any cost, counting on their national group's code of ethics to carry them through the ethical morass created by the amendment. Right now all fourteen people covered under this bill are pro-choice, but what of the future? What is to prevent someone who is anti-choice from becoming licensed and withholding information that would serve the best interests of their patients? In the amended bill, nothing prevents this.
Senator Nesselbush early on pointed out that the language in the bill is specifically crafted for those who are not pro-choice. Is it really necessary in our society to start crafting two sets of laws, those that cater to the whims of the religious, and those that serve the rest of us? With all the trumped up fear mongering being spread about such nonsense as Sharia law in America, why are we unable to make the small cognitive leap to the emergence of a two-tiered justice system respecting conservative Christian values?
Further, since when has the General Assembly had any luck crafting these last minute conscience clauses to their bills? Those who remember the much less than satisfactory civil unions bill of last year may recall that any rights such a bill ostensibly granted were seriously undercut by the Corvese amendment, which in some cases may have taken away rights enjoyed by committed same-sex couples who had gone to the trouble of establishing durable powers of attorney for each other. This genetic counseling licensure bill with the amendment included may have a similar effect of establishing a short term gain but a long term loss in the quality of the counselors licensed as anti-choice advocates move into the field, perhaps to work at one of the many fake pregnancy counseling centers that exist only to trick women into not realizing all their health care options.
When a group of bright, committed medical professionals, with the full support of the medical establishment, presents itself to the legislature and asks for legislation that will serve to protect the integrity of their profession and the health of their patients, the legislature needs to listen to them, and not to anti-choice cranks who care nothing for the health and safety of anyone save for the the unborn.
This bill should be passed, immediately and without any amendments.
But don't hold your breath.
Anti-Choice Zealots Hold Medical Bill Hostage

,