Peace activists chained themselves to Textron's world headquarters in downtown Providence this morning, protesting the RI-based conglomerate's role in supplying cluster bombs to Saudi Arabia.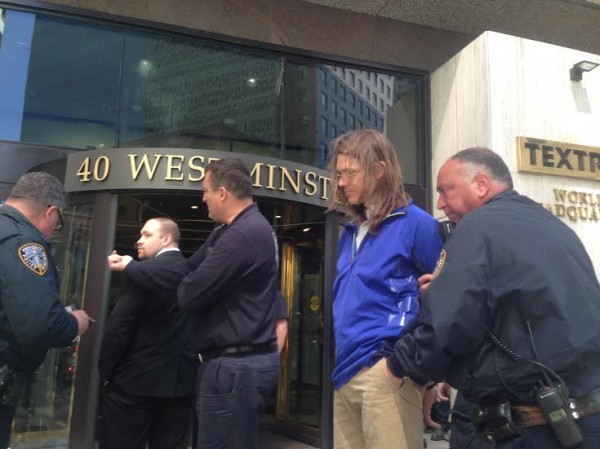 Police arrested three activists who chained themselves to Textron's front doors. Pia Ward, Mark Baumer and Lee Stewart used bike locks to chain themselves to Textron's front entrances. They were handcuffed and placed in a van. An officer said they were being taken to the station to be processed.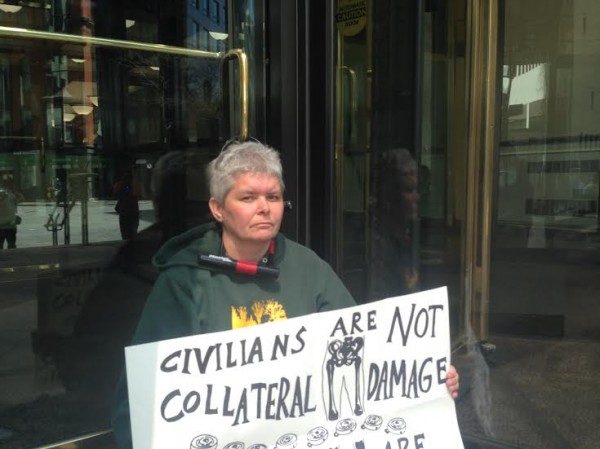 "The climate change crisis demands that we end militarism and put those resources towards creating a better world for all, human and nonhuman alike," said Ward in a prepared statement. "As a resident of Providence I don't think we should accept a company like Textron who makes cluster bombs, kills civilians and profits off of death and conflict."  said Mark Baumer. "Fighting for my humanity in a country that produces and sells cluster bombs that kill innocent people means rejecting personal complicity by taking action," Stewart said.
Providence fire fighters unscrewed door handles to remove the activists. They had construction-grade grinders on hand in case that didn't work. At least two police cruisers and four fire vehicles responded. The activists disrupted traffic at the intersection of Westminster and Weybossett streets for at least 30 minutes. The entrance to Textron was blocked for at least 15 minutes before police arrived.
Textron has come under what the activists called "intense scrutiny" for its role in supplying cluster bombs to Saudi Arabia. Human Rights Watch exposed in February that Saudi Arabia is using cluster bombs in areas populated by civilians in Yemen. Cluster bombs, which pose a danger to civilians, are banned by 119 countries but not by the United States. The US buys cluster bombs from Textron and sells them to Saudi Arabia.
RI Future was the first to report that Rhode Island-based Textron is involved in the growing international resistance to the US role in supplying Saudi Arabia with cluster bombs.
Senators Chris Murphy, of Connecticut, and Rand Paul, of Kentucky, recently proposed new legislation that would halt arms sales to Saudi Arabia. A spokesman for Senator Sheldon Whitehouse said he is evaluating the bill.
According to Providence Police Commissioner Steve Pare the activists are charged with vandalism and malicious mischief. They will be released today. The activists asked that donations to support them be made here.
This post will be updated.
Steve Ahlquist contributed to this report.
Read RI Future's full coverage of Textron's cluster bombs here:
Anti-cluster bomb activists arrested for chaining themselves to Textron building

,