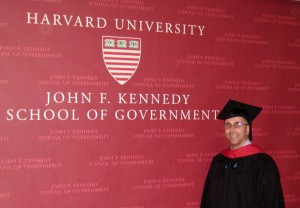 It was good timing for me that former RI Future owner Brian Hull had to focus on finishing his studies at Harvard University earlier this year, giving me an opportunity to take over this site from him. Now it's good timing for Rhode Island.
Hull just graduated from Harvard's prestigious Kennedy School of Government with a Masters Degree in Public Policy focusing on economic development and social and urban policy and he would make an excellent and logical appointment to the state Economic Development Board.
In the wake of the 38 Studios fallout, there are currently as many as five vacancies on the EDC board. Instead of filling all those slots with the same type of local business leaders that typically inhabit the seats at the EDC table, Gov. Chafee should consider naming at least one person – and probably more – who understands economic development from a systematic perspective.
"The structure of the RIEDC lacks a presence of a theoretical understanding of economic development planning and that's something I could bring to the table," Hull told me, when I told him about my idea for this post the other day. "Rather than looking for the next best 'deal' which is how things are currently done, RIEDC really needs to focus on the larger picture of the state's economy in relation to the region, play on its assets and strengths, and think about a long-term growth strategy that targets resources in focused way."
Hull, who lives in Providence with his wife and plans to stay in the home they own, tried to get a job in economic development in Rhode Island. Instead, he landed a job as a senior policy analyst with the Initiative for a Competitive Inner City, a Boston-based "nonprofit research and strategy organization and the leading authority on U.S. inner city economies and the businesses that thrive there."
While he'll be working with cities all across the country, he's also looking for a way to stay involved with economic development here in Rhode Island, too.
I asked Hull what kind of experience he has successfully implementing economic development plans, and he sent me this list:
Rethinking Workforce Development for Providence's Labor Force: A skills gap analysis for Providence's labor force, review of the workforce development system servicing Providence residents, and a comprehensive actionable list of recommendations and implementation procedures to modify the current training system in order to improve service delivery, achieve better employment outcomes for Providence residents, and better engage low-income and low-literacy populations in job training programs to facilitate their employment.

City of Worcester Economic Development Plan: Formulate an economic development plan for the City of Worcester by undertaking four-part strategic assessment of the local economy to understand its strengths, weaknesses, and opportunities for leveraging additional economic development through a baseline analysis, development agenda, strategic focus on key areas, and detailed research and analysis.  The report (1) identifies key economic development opportunities and challenges in Worcester, (2) offers a strategy of proactive change to overcome those challenges and capitalize on opportunities, and (3) provides first steps to prioritize, target, and implement the strategy. The strategy synthesizes a variety of economic development approaches, and is rooted in Worcester's context – inherent assets, established partnerships, existing business support capacity, and common goals for the City's future.

City of Miami Transportation and Logistics Business Cluster Analysis: This report analyzes on the competitiveness of Miami's transportation and logistics cluster, with a focus on marine transportation, by identifying the strengths and weaknesses of the Port of Miami in relation to other ports in the state, in the country, and in the world.  It also recommends specific changes to ensure that the Port of Miami retains and grows its current market share in the transportation of high-value added goods and the global cruise industry.

New Orleans Broad Street Four Corners: This report proposes a strategic partnership in New Orleans, LA between Broad Community Connections, a nonprofit that focuses on revitalizing a section of the Broad Street corridor, and the Crescent City Community Land Trust, a new land trust in New Orleans that will focus on commercial and residential redevelopment. As part of the analysis, we examined current models of community land trusts in the United States that have experience with commercial properties.
Typically, people are appointed to the Economic Development Corporation's board because they have been successful in business. Hull has been successful in economic development. The two are not the same thing. We ought to have people who have succeeded in business on that board, but we ought to also have people who have succeeded in economic development.
Hull has done both, having also run a successful photography shop, more akin to the kind of businesses that are the back bone of the Ocean State, for 15 years before going to Harvard.
If you agree that Hull should be appointed to the EDC board, tweet this article to @LincolnChafee or send the governor's office an email: governor@governor.ri.gov.
Governor Should Appoint Brian Hull to EDC Board

,