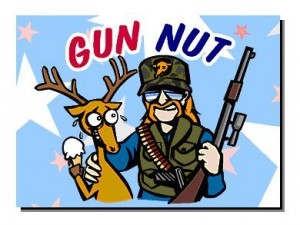 One of the most interesting outcomes to the Rhode Island Republican Party raffling off a semi-automatic machine gun is that it shows how truly disparate the different wings of the conservative movement in the Ocean State are.
For example, while Justin Katz posted this on Twitter: "Memo to RI conservatives: Stand against the prudes' moral bullying. It will only continue to expand."
Meanwhile, the Rhode Island Young Republicans posted this to Facebook:
Eight emails have hit my inbox today re: the insensitivity of the RI GOP's semi automatic gun raffle, and some new attendees' concerns re: attending a republican event tomorrow. PLEASE note that the YRs are not beholden to the state party, have no funding from them (all of our events are self-funded or sponsored by the Roosevelt Society), and tend to have a very different tone. The only connection is that by charter, the chairman (me) sits on their E-board (although to be honest, we've only had one e-board meeting since we came into existence, so impact is non existent). Tomorrow night with Commissioner Gist is NOT a RI GOP event. We look forward to continuing to promote the big tent philosophy, and being the next generation's problem solvers (Lord knows we have a lot to work with).
Are Rhode Island Republicans gun nuts?

,