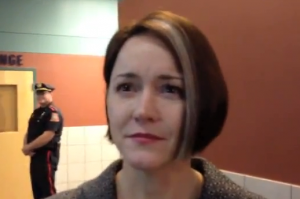 In baseball parlance, it's the top of the eighth for Deborah Gist as her high profile political battle with teachers over her tenure reaches its final hours. The Board of Education has a vote scheduled for Thursday, so both teams still have some at-bats left. But barring extra innings, I think we've already seen the heavy hitters.
For teachers, their big plate appearance came two weeks ago when they held a huge rally in a Cranston gymnasium – you can watch video of it here. Estimates range between 700 and more than 1,000 educators came to publicly renounce Gist. Answering a poll question is one thing, and 85 percent said Gist should go, but taking time out of one's personal life to stand up publicly and speak out against your employer is entirely another matter.
Gist's cleanup hitter Arne Duncan batted yesterday. Read Linda Borg's front page story in today's Providence Journal and judge for yourself how he did. The reality of politics is no one knows for sure, and never will.
We don't even know what inspired the highest ranking education official in the United States to call to talk to four local journalists about the state education commissioner's contract situation, or if he's ever done so before. Duncan and Gist's spokesfolks both say Gist didn't ask Duncan for the political favor. Yesterday I surmised that it was a power play on the brand new Obama-annointed Democrat Linc Chafee, but maybe it was a power play by Chafee. Maybe Chafee asked the Obama Administration to give a call to give him cover? More likely it was a Gist ally from the corporate reform movement that Obama and Duncan are so closely aligned with. Read this Washington Post piece by Fred Hiatt; it's about Arne Duncan lobbying the Washington Post for Michelle Rhee in 2009, but it may as well be about him doing so for Deborah Gist in 2013.
We do know this: Duncan mentioned that test scores have improved but didn't mention that the achievement gap – the more meaningful metric to many progressives and education experts – has widened.
So in today's Providence Journal, Alan Hassenfeld, of the business community, and Christine Lopes, of the charter school community, go to bat for Gist. They liken her struggle for a contract extension to the signing of the first colonial charter. In other words, they struck out looking.
Rhode Island will not revert back to some sort of mythical status quo if Deborah Gist goes and reforms education somewhere else. And, yes, she has brought in a lot of money courtesy of Race to the Top, but if that money is being largely invested in online education, high stakes testing and charter schools it is easily debatable that we're effectively spending money to further increase the achievement gap between rich suburbs and poor cities.
To further strain this tired old analogy of likening politics to baseball, Deborah Gist is Rhode Island's Bobby Valentine, the highly-sought-after Red Sox manager who couldn't win with the best talent in baseball. I know Arnie Duncan seems to disagree, but personalities matter. Especially in politics; and public education is political. Deborah Gist was and is great at managing up; hence the call from Duncan. But she hasn't proven herself to be very good at managing down; hence the teacher revolt. We can find someone who can do both, if Gist can't.