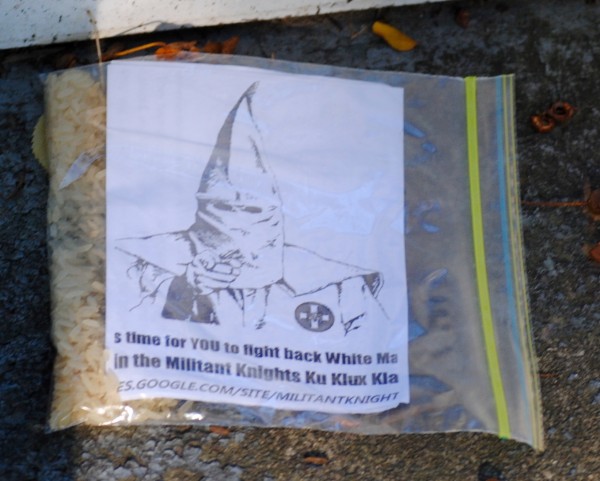 For the second time in several months, racist flyers have been distributed in mostly white neighborhoods in Rhode Island. The first was in East Greenwich, the most recent on the East Side of Providence. In some ways it is not surprising that as the country grapples with institutional racism in the frequent killing of unarmed people of color by the police and subsequent Black Lives Matter Movement, that people who feel threatened by that effort will push back, sometimes in pretty intense ways. These flyers, with their reference to the Ku Klux Klan, call up profound racist/anti-Semitic/terrorist actions from the past and plunk them down in our midst today. This act of white supremacist violence is not acceptable in our community.
The killing of nine people in the church in Charleston South Carolina was perhaps the most virulent face of the racism that lurks barely beneath the surface, a legacy of our history in the U.S., but there are many smaller ways it is expressed every single day. The American Friends Service Committee, a Quaker organization that works to address the root causes of violence and oppression in communities worldwide, works to help communities face that legacy and to address the many faces of hate and fear.
Arresting the people who are pushing their agenda of hate and fear will arrest a person, but not the problem. We will make no progress as a society if we believe that justice is done simply by punishing one or more white supremacists. Racism is not just a historic problem or the work of a few individual "bad apples." Racism – whether by direct intent or deeply entrenched structural factors – is a problem in all aspects of American life, including economics, housing, health care, criminal justice, policing, education, media coverage, among others.
We are living in a moment when many people in this country and abroad are seeing our nation's addictions to racism and violence for what they are: social ills woven deeply into the tapestry of our society. This is a vital social challenge for all of us, and one that white people have particular responsibility to address. None of us will be truly secure until our systems are built to protect the wellbeing of all people.
Whether facing the actions of a gunman propelled by racist philosophies and a culture of violence that our society as a whole is accountable for, or the distribution of flyers drawing on the imagery of the Ku Klux Klan, each of us must recommit to ending these evils at their root. Acknowledging the effects of generations of racism and violence on our current condition is a first step. Taking concrete actions to transform our society, institutions, and relationships to end racism and violence is the next. We each have a part to play. And white people in particular need to step up, break the silence that can be understood to be complicity, stand with our neighbors who have been targeted, and say "no, this is not ok. Not in my neighborhood. Not in my state."
Arresting hate throughout our culture

,