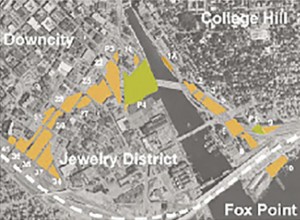 The barren swaths of empty I-195 lands may soon look more like an open air art museum.
That's because the "LINK" commission is looking for 12 to 15 art installations to grace the 20 soon-to-be-developed acres between downcity and Fox Point for a year or more while it looks to re-purpose the parcels left vacant when Interstate 195 was moved.
"This is an unusual occasion for creative placemaking that will contribute to the vitality and attractiveness of Providence's urban landscape," according to the artists' application. It "will enrich the surrounding urban environment and generate excitement for the I-195 land while giving local individuals a very visible space to showcase their creative talents."
The commission is holding a meeting Monday, December 2, 5pm at 315 Iron Horse Way (EDC HQ) to discuss the public art installation. Each project may be funded up to $2,000. Yep, I said $2,000, starving artists. Click here for details.
Here's the more information from Providence: "The I-195 Redevelopment District invites all individuals currently working or residing in Rhode Island to enliven the community and activate public space in Providence with original creative works for an interim period. All persons selected for this project will be asked to design temporary installations for specific sites on the parcels. It is the hope that the installations will generate excitement for the I-195 land while giving local individuals a very visible space to showcase their creative talents."