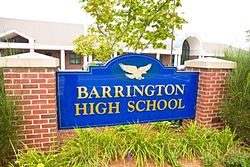 Not so fast, the state Department of Education tells a member of the Barrington School Committee after learning this morning that the district is considering allowing a limited number of students to attend the town's high-performing schools if they can pay tuition to the public school system.
"They'd be smart to get a legal opinion first," said Elliott Krieger, a spokesperson for RIDE. "We're concerned with the equity and access of all students in general."
Keiger said he first learned of the proposal this morning via an article in the Providence Journal, in which it was reported that Barrington is considering making ten slots available to families willing to pay $12,800, the per pupil cost of educating a child in Barrington, in tuition to attend school there.
Patrick Guida, the chair of the Barrington School Committee as well as the vice chair of the state Board of Regents, said there are potential legal issues to grapple with before the district could put the plan into effect, such as whether the plan would effectively discriminate against students with special needs or even those who couldn't afford to pay the tuition.
"If there are any legal issues we would cancel the whole thing," he said, but added: "By virtue of us making this opportunity available, we ought to have some opportunity for discretion."
One way the school district may accommodate for students with special needs, Guida said, is to offer an additional two slots to students with special needs if a family was willing to for the cost of their child's education. Special needs students can cost much more to educate than the average student, ranging anywhere from $16,000 to $100,000, Guida said.
The proposal is still very much on the drawing board and the schools have still not gotten a legal opinion from its solicitor, Guida said.
He said he spoke with Krieger about the plan this morning, but has yet to discuss the matter with Deborah Gist, the commissioner of education. Krieger said Gist is out of town and won't be available until Monday.
"I wouldn't say I didn't talk to anyone at RIDE about it," he said. When asked who he spoke with, he said, "I'm not at liberty to say."
Tim Duffy, the executive director of the Rhode Island Association of School Committees, said Lincoln is considering a similar proposal and that is not unlike the mayoral academy in Cumberland set up by Mayor Dan McKee, that serves students from Cumberland as well as neighboring towns.
Some  worry that the proposal could start a trend of affluent suburban communities with high performing schools drawing away from less-affluent districts the students whose families can afford to pay the tuition costs, thus exacerbating the divide between education in affluent and poor communities.
"What we need to work towards is ensuring all our students in every community, regardless of their income level or background, have access to a 'Barrington' education," said Maryellen Butke, the executive director of RI-CAN, a group that supports public education reform and school choice. "Those who don't have the means to move to a high performing community like Barrington or pay the $12,800 in tuition deserve access to a high quality public education as well. RI-CAN supports giving access to great public schools to all Rhode Island kids."
Barrington Tuition Idea Might Be Discriminatory

,