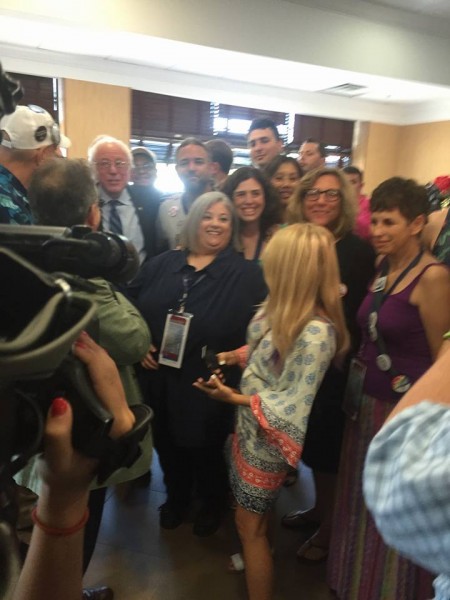 As it was for many Bernie Sanders delegates, last week's Democratic National Convention was the first convention for me. I had an idea of what to expect, but I was less prepared for the dynamics associated with our underdog movement.
Throughout the campaign, I followed Bernie far and wide. I believed in his positions on trade deals, fossil fuels and regime change. Many of us gave him $27, many of us more than once. Bernie was not just a candidate, he was our political savior. To me he was the last hope for the future. He was our leader, our salvation, our messenger who represented the disenfranchised, the left wing, the Greens, the progressives, independents, those who were anti-Hillary and those who were anti-Trump and those who just liked him for his honesty, integrity, grit, humor and unbelievable energy.
Some 1,900 of us followed him into the Democratic National Convention. He wanted our voices to be heard. He wanted our votes to be counted. He did not want the DNC to be a convention of just the haves, the rich and famous and the 1 percent. We chanted "NO TPP", "NO NEW WARS", "BERNIE" and more. We protested, we walked out, we remained faithful to Bernie and his message and it was not easy.
Logistically, Philadelphia was challenging to get around. Each day was spent waiting for buses to take us from destination to destination. On an average day, delegates from Rhode Island were spending 3 or more hours waiting for, or in, buses. Roads were closed, bus drivers had no idea where to go, UBER drivers were clueless and it was HOT. For some of us, this impeded our ability to attend protests and to organize effectively. It was difficult to say the least.
At the convention, delegation after delegation complained about how the states were organized on the floor. The RI delegation had similar issues. We were placed in 2 different rows in 2 different sections which hurt the ability for our 13 delegates to look united for Bernie. Other states had similar issues, the DNC obviously wanted the delegations to have the look and feel of all for one and one for all for Hillary and this was absolutely not the case. The convention, in my opinion, was designed to be a talking piece for the super delegates, No one else really mattered.

Tuesday night was especially staged. It was impossible to tell which states went for Bernie as the superdelegate votes were counted in with the pledged delegate votes. Our 12 percent victory was not even mentioned as we were silenced and not allowed to speak up on the convention floor. The chair of the party, House Speaker Nicholas Mattiello, got that honor as that is the tradition. This is just another way in which we as Bernie supporters were marginalized.  After the roll call count which was not shown on any screen on the floor of the convention MANY WALKED OUT.  None of us believed that Sanders wanted a voice vote by proclamation the majority felt that there had to be an intimidation factor in his decision.
Throughout the rest of the convention there were many good speeches and some not so good ones.  One of the most emotional speeches was delivered by Bernie's brother Larry as he announced the count for the international vote. Of course, Bernie's speech nominating Hillary was both inspiring and depressing at the same time. On Thursday night The Reverend William Barber seemed to be channeling the Bernie Sanders message. He was dynamic insightful and everything that  the convention needed.  
On the other hand there were those channeling the Republican mantra with Leon Panetta and General Allen. The war and imperialist message was alive and well and living inside the DNC. Chants of "USA" drowned out calls for "no new wars." The true issues facing the people of this country were merely a blip. Indigenous rights, the Black Lives Matter movement, homelessness,  poverty, hunger, the environment were glossed over by a speaker here and there and were just a distraction in the coronation process.
On the plus side most of RI superdelegates were readily accessible. I had conversations, with senators Whitehouse and Reed, congressmen Cicilline and Langevin and Mayor Elorza regarding my opposition to the Clear River Energy Center in Burrillville.  They all received packets on our grassroots efforts to stop the power plant. They listened with open ears on that issue and other concerns different delegates had.
A highlight of the convention was when Bernie Sanders spoke to us at our hotel breakfast and thanked us for our efforts in his primary win in the state. Bernie spoke about unity to us and to all at the convention and he reiterated how important it was for Trump to be defeated. 
A shout out goes to the convention organizers for RI – Susan Della Rosa, Ann Gooding and Annie Pease who did a fabulous job putting it all together for us.  On a sad note the  Clinton delegation lost one of their own during the convention as Mark Weiner passed away on Tuesday our entire Bernie delegation expresses our deepest sympathy to the Weiner family.
Life as a local Bernie delegate at the DNC

,