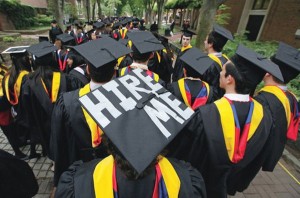 I'm surprised we haven't seen more sequester protests from the ranks of the recently graduated given this demographic will likely be most-affected by the long term cuts being rolled out. Here's why.
Since the recession hit, the number of underemployed college graduates has skyrocketed. According the Associated Press, about 50 percent are either out of work or working in a job for which a college degree is unnecessary. Look across the counter at Starbucks, these days your barista is just as likely to have a college degree as not.
The recession has produced a marketplace where recent graduates are competing with people who have years of experience for the same jobs. Whereas college grads used to exit college to fill entry level jobs, now they are competing for entry level jobs with people who have been working for 5 or 10 years. (Better that than no job at all).
One of my students, who graduated last year, exemplifies this trend. After graduating with honors from URI with a double major in Economics and Political Science, she moved back to Arizona. She completed several prestigious internships while at URI and when she left she got a fellowship to go work in Mexico and learn Spanish. If anyone should have been able to find a job immediately, it's her. Yet when I spoke with her a few weeks ago, she was perplexed because she could not get even get an interview for a secretarial position.
The situation she is experiencing is one in which she is competing with the recently laid off. Instead of competing for those entry level jobs with other recent grads, she is competing with people who have been in the workforce for 5 to 10 years and lost their job when the economy soured. Experience wins when jobs are scarce and supply is high. It's a basic law of supply and demand. Right now supply is high but demand is low.
While this is distressing in the short term given the large amounts of student debt most of these college graduates have, the long term earning impact is what has me concerned. If these students take jobs for the next 5 years as baristas and waitresses, then when the economy recovers and there is a demand for entry level workers, they will be at a disadvantage against the students graduating then.
The end result: the college grad who is either unemployed or underemployed for an extended period of time has a more difficult path to gainful employment.
This is where the sequester comes in. Our economy is still quite fragile and the sequester is undeniably going to lead to a new round of layoffs. Layoffs will start with government positions and government contractors but the cuts in spending will reverberate through the economy leading to lower spending and demand for other goods and services which should lead to more layoffs in the private sector.
These new layoffs are going to make the job market for our new graduates even more difficult.