Fasters from Beyond Extreme Energy (BXE), together with their supporters from several faiths, will break bread in front of the Federal Energy Regulatory Commission (FERC) in D.C. today to end a dramatic 18-day hunger strike undertaken to demand that FERC stop issuing permits for the pipelines, storage facilities and LNG export terminals that use fracked natural gas, and instead heed Pope Francis's call to care for the Earth, according to a BXE press release.
On Friday copies of the pope's encyclical will be presented to the five FERC commissioners. There will be music, brief statements, and a procession, featuring BXE's colorful and moving 50-foot anti-fracking banner, "The United Sates of Fracking." BXE will also display the new quilt made in collaboration between fasters and residents of far-flung communities fighting fracking infrastructure in their communities.
"Being here, eating no food for 18 days, has taken me at 72 the oldest faster a fascinating and disorienting rabbit hole, where 'normal' appears absurd and even suicidal, and where unrealistic may be our only way out," said Steve Norris, 72, of North Carolina, is one of the oldest fasters. "I think because of our legal structures, because of their narrow fossil fuel focus, and because people disbelieve in viable alternatives, their minds are wedded to the madness of more fossil fuels."
Sean Glenn, 23, of Connecticut, is one of the youngest fasters. "I think this fast has just reinforced my belief in the power of people and our ability to overcome our old ways and really embrace new ones with complete curiosity, not knowing what we're getting into," she says. "The love that everyone has shown has been really powerful and the respect that we're receiving for it is what has surprised me."
WHERE: Federal Energy Regulatory Commission (FERC), 888 1st St NE, Washington, DC.
WHEN: Friday, Sept. 25, noon to 1:30 p.m.
WHO: The fasters, their supporters, and faith leaders.
WHY: The BXE fasters demand that FERC end its fracking-friendly support for expanding natural gas infrastructure, which has led to a toxic locked-in fossil fuel network at the expense of safe, sound, and clean renewable energy. Fracking wells and gas pipelines contaminate the homes and communities nearby, and also leak methane, which is responsible for about 25% of the man-made global warming we experience today.
Earlier this week a rally took place at the RI State House for People, Peace and Planet.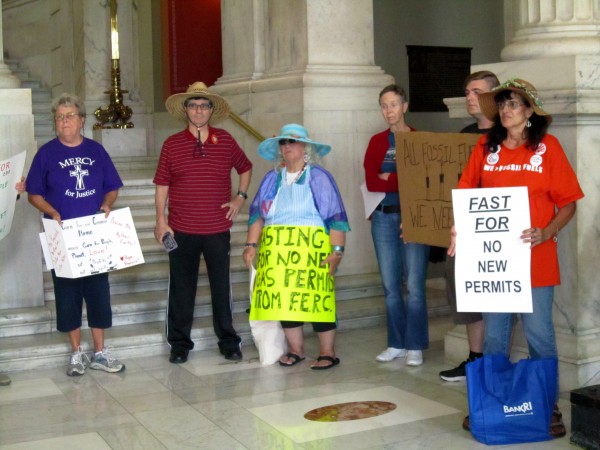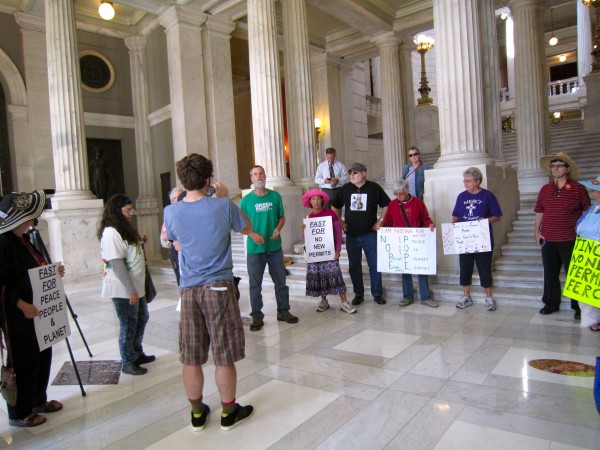 On Wednesday afternoon fasters adorned a street corner on the city side of the State House.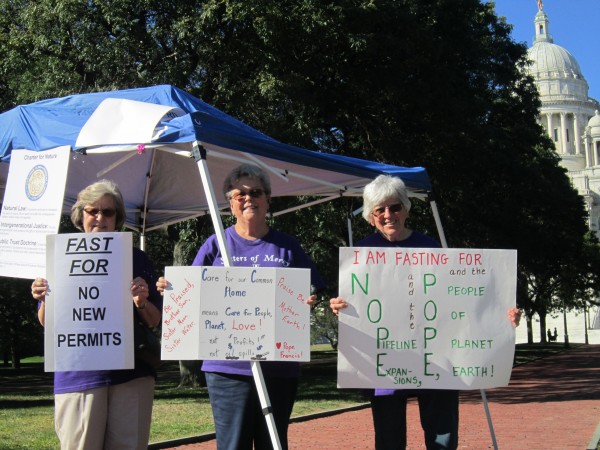 After that, on Wednesday, there was a vigil and prayer service at the State House in anticipation of Pope Francis' address to Congress the following day.
Finally on Thursday, Fossil Free RI attended the celebration of International Peace Day at URI.
Today at noon, our friends in DC, in Rhode Island and across the nation will break their fast. Also my wife, Beatrijs, and I will end our two-week fast; the battle against extractivism and wholesale destruction of life on Earth continues: "Where there is no vision, the people perish …" (Proverbs 29:18)