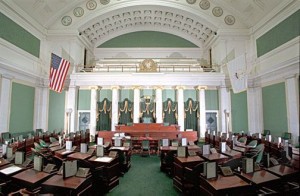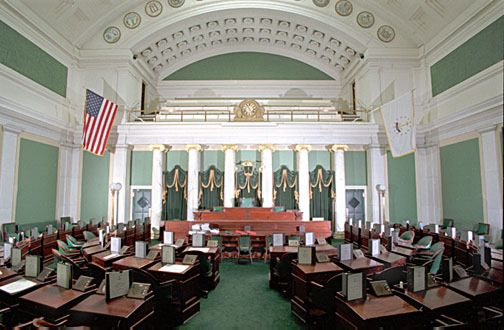 The past few weeks have brought me to a couple of intriguing talks, which I'm just getting my head around now. First was one by the authors of Dollarocracy. The second was Common Cause RI's Annual Meeting, which featured a keynote speech by Prof. Sanford Levinson about rethinking the U.S. Constitution. It had seemed timely during the shutdown, though during his speech the U.S. Congress began the process of voting to reopen the government. The heart of Levinson's argument (as I remember it) was that if the most we interact with the U.S. Constitution is through interpretations of the Bill of Rights and a handful of the amendments, then we're not really interacting with the document. After all, if the meaning of a comma and the militia clause in the 2nd Amendment is The Great Constitutional Debate of the day, then we're really debating a really tiny fraction of the document. We're leaving so many of the provisions of the Constitution alone. "Like bicameralism!" Levinson exclaimed, more than once in his speech. He was really negative about bicameralism in state constitutions. Maybe it was just the repetition, but that stuck with me.
I've discussed the idea of a unicameral legislature before, and GoLocalProv's Dan Lawlor has also suggested it's not a terrible idea. And should a Rhode Islanders approve a state Constitutional Convention in 2014, I think it's something we should really discuss. Let's talk about how weird our bicameralism is.
Ostensibly, state bicameralism is based on the national bicameralism. A state Senate is supposed to mirror the U.S. Senate; its members represent a lower rung of government (states in the U.S. Senate, municipalities – originally – in the R.I. Senate) rather than a number of people. In Rhode Island, for a long time, that was how things were: there were an equal number of senators to towns and cities. In practice, this kept the Republican Party in power far longer than they should have been, and it wasn't until the Bloodless Revolution in the 1930s that that changed. Similarly, a state House of Representatives is supposed to represent the people, and thus are tied to districts rather than government areas. Because it represents the People, the House is usually where a budget originates from.
In Rhode Island, this difference doesn't exist any more. Rhode Island really just has two Houses of Representatives; the big one which produces the budget and the small one approves appointments. Other legislation  It's not a great system because it's mostly redundant, but it's not a totally broken system, because it's more or less worked for a long time.
What if we applied the principles of bicameralism to other branches of government though? Like, what if instead of a single Governor we had two Co-Governors, each elected to four-year terms but elected in syncopated cycles. And what if, like the legislature, it took the signature of both Co-Governors to pass legislation? If both were from the same party, perhaps there would be negotiation and they'd pretty much agree. But if different parties each held a Co-Governorship… expect nothing to get done.
Or what if there were two state Supreme Courts? If you had to argue your case before one court, and then argue it again before the other court; and neither court needed to take into account the ruling of the the other. And only if both courts reach the same verdict could anything be done.
That seems ridiculous, but that's exactly what happens with dozens of bills each year in the legislature. Advocates and legislators make their case before one chamber and then have to make the case again before the other chamber. If one key legislator, say a committee chair, has a problem with the bill… that bill dies. On the face of it, having to make the same argument twice is not necessarily a negative, yet it does make the General Assembly slower at dealing with things than it could be; requiring that each piece of legislation has a doppelganger also has the consequence that should one chamber request changes to a bill, then those changes have to be approved by the other chamber, the original bill withdrawn and a Sub A be submitted.
It also means that the two chambers can hold up legislation they don't see eye-to-eye on as negotiating tools over one another. Within a single branch of our government, we can have a conflict that goes beyond the simple partisan or ideological divides. One that's more about where power resides. This is not a productive conflict to have within government.
Reducing the legislature to one chamber would create a General Assembly that did not need to re-argue each piece of legislation it wished to pass. It would eliminate a nonsensical duplication of the legislative process. It would strike out a whole section of political conflict.
In today's political reality though, this is impossible to do. First, Senate Democrats disproportionately benefit from incumbency as compared to their Republican peers. Second, the change is so radical that finding a way that doesn't anger every senator is impossible. The most feasible strategy seems to be putting all politicians into one chamber with the next redistricting, so that 113 districts are drawn instead of 75. But too many politicians aspire to the leadership positions, and it would be impossible for politicians to be satisfied that their smaller districts were "safe" enough that they'd stand a good chance of regain their seats. It certainly would be impossible without other changes to how we do districting and elect our legislators.
Which is why a Constitutional Convention is the sole place it could happen. But even with that such an amendment would face two major hurdles to winning an affirmative vote from Rhode Islanders. First, it would be campaigned against vehemently. Second, it would require overcoming the "tradition" of bicameralism. Too many of our political institutions have become sacred totems. Bicameralism is one of those. As Lawlor points out, it only was defeated in Nebraska thanks to Great Depression politics, the idea that bicameralism led to corruption, and high voter turnout thanks to a vote on legalizing horse racing. A similar confluence of events seems unlikely to happen in the next few years.
Bicameralism: Why in RI?

,