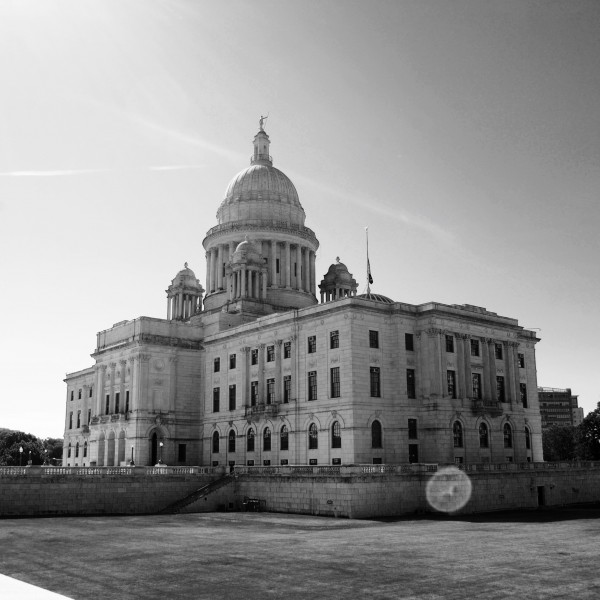 A few bills did pass before Friday's abrupt end to the legislative session. I don't know whether I believe the rumor I heard today (from one person) that the General Assembly is coming back to pass more bills in the not-too-distant future, but Speaker Mattiello claimed earlier that he wouldn't go back into session until the summer is over.  Here is a list of some of the bills that passed that I found interesting.
Some bills have already become law. Governor Raimondo signed bills making sure that municipal courts respect rights such as the right to a lawyer (H5187, S71); keeping the public from requesting access to working papers and notes at state colleges (S177, H5098); banning shady online colleges which aren't well-accredited (H5661, S554); repealing most of the ban on government employees volunteering at primaries, which had been designed to prevent corrupt political machines running elections (H6008, S793A); and allowing religious organizations to require criminal background checks of volunteers or staff working with kids (H6059, S661).
Bills can also become law when the Governor decides to neither sign nor veto them. That happened to S611/H5715, a new law backed by the RI Supreme Court keeping the public from seeing the names of people who owe late court-related fees or fines, except for the 100 biggest offenders.
Also, the House and Senate each have the power to set up study commissions by themselves, without waiting for approval from the other chamber or from the Governor. We will now see commissions to study changing the power-plant approval process (H6051A); to study changing the start time of public schools (H5888); to study Rhode Island's laws that set minimum prices for products like cigarettes (H5243); and to study extending RI's recycling pick-ups to cover all apartment buildings and condos (H5606).  Other successfully passed resolutions call for support for Taiwan (S243); call on the Dept of Environmental Management to study the impact of Trump's EPA policies on Rhode Island (H5317); ask the Raimondo administration to study whether two of the state's oversight officials — the Child Advocate and the Mental Health Advocate — have enough staff (S336); ask the state's Congressional delegation to delay and revise the Food Safety Modernization Act (S919); and call on public schools to discourage heavy backpacks for kids by measures such as sending fewer books home and using data-gathering e-books instead (S881).  A few of these resolutions are more like orders than requests.
There are other bills that have been sent to the Governor and may well pass, which I'll describe in a future article.