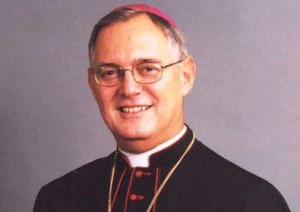 Providence Diocese Bishop Thomas Tobin has a tendency to very publicly take Catholic politicians to task for their stand on reproductive rights. Tobin's very public fight with Congressman Patrick Kennedy was seen by many to be a bold assertion of clerical power to control the votes of Catholic legislators on issues of importance to Catholic theology. Most recently the Bishop went after James Langevin in his June 28th Without a Doubt blog, saying:
Although he continues to identify himself as a "Catholic, pro-life member of Congress," consider his record. He voted in favor of Obamacare that allows the funding of abortion; he has championed the use of embryonic stem cells, a practice that results in the destruction of human life; he has proudly announced his support of homosexual marriage, a concept that is, ultimately, an offense to human life; he supports the HHS Mandate that requires Catholic ministries and others to provide insurance coverage for immoral practices; and recently he voted against the bill that would have banned the horrific practice of sex-selection abortion. It's clear that Langevin has abandoned the pro-life cause. What a disappointment!
Randall Edgar, in the September 13th Providence Journal article Bishop says Langevin no longer pro-life followed up this story, with comments from Langevin, who still considers himself "pro-life." Langevin said
…he has differences with Bishop Tobin, for whom he has "deep respect." Among them: He believes that being pro-life requires that he work to "reduce unwanted pregnancies," which is why he supports "making contraceptives available." He also said he sees stem cell research as offering "hope for curing some of life's most challenging chronic conditions and diseases."
What is clear from the disagreement between the legislator and the bishop is that the "pro-life" position is not in any way the opposite of the "pro-choice" position. In fact, the reality is that everyone, on either side of the reproductive rights issue, is pro-life. The only real disagreement is how we express our point of view through our political actions.
Tobin and others who wear the pro-life label with pride love to tarnish those who believe in reproductive health care as being pro-death, as seen in this editorial from the April 19th Rhode Island Catholic entitled "Planned Parenthood's War on Women" in which The American Civil Liberties Union, Humanists of Rhode Island, Rhode Island Medical Society, Brown Medical Students for Choice and Catholics for Choice were labeled "culture of death allies" to Planned Parenthood.
Tobin has every right to publicly cajole or privately persuade legislators to vote as Tobin interprets  God's will. Legislators, Catholic or otherwise, are free to heed Tobin's words or not. The voting public, however, many of whom are not Catholic, and many of whom follow faith traditions that understand the necessity of reproductive health care choices for women, might understandably become worried about casting votes for candidates with otherwise fine credentials that happen to be Catholic, their worry being that they are not voting for someone who will act in the best interests of our country and our citizens, but only for what is in the theological interests of the Catholic Church.
It should be remembered that we are not just talking about abortion here. We are talking about condoms, birth control pills, marriage equality, doctor patient privilege, sex education and a myriad of health care and lifestyle issues important to the lives of real people living in the real world. The harder the Providence Diocese pushes Catholic legislators to forgo a multicultural and secular perspective in favor of Catholic theology, the more likely it is that voters will find themselves unable to be sure that Catholics can be trusted to hold public office.
Catholic Senator John F Kennedy faced this head on in 1960, speaking to the Greater Houston Ministerial Association :
I believe in an America where the separation of church and state is absolute–where no Catholic prelate would tell the President (should he be Catholic) how to act… I believe in an America that is officially neither Catholic, Protestant nor Jewish–where no public official either requests or accepts instructions on public policy from the Pope, the National Council of Churches or any other ecclesiastical source…
At the time, though prejudice against Catholics was waning, there was still enough serious suspicion that a Catholic president would be little more than a puppet of the Pope that Kennedy felt it necessary to make this speech disavowing such influence. Kennedy was faced with essentially the same problem posed to Jesus, who famously told his interlocutors to render unto Caesar (the government) what was Caesar's, and render unto God what is God's. In other words, separate church and state.
Tobin wants Langevin and all other Catholic officials to stop making any distinction between church and state, rendering everything unto God, Caesar be damned. What Tobin risks with his very public pressure tactics against Catholics in high office is the very ability of Catholics to attain high office. Under the conditions Tobin wants to impose on Catholic office holders, how could anyone who disagrees with Catholic theology concerning marriage equality or birth control reasonably vote for any Catholic?
Tobin has resorted to what amounts to religious extortion in the past to get his way politically, when he denied the sacrament of communion to Representative Patrick Kennedy in 2009. His strong words against Langevin might mark the beginning of a second round of religious bullying. Langevin maintains that he has "deep respect" for Tobin, and though little in Langevin's voting record should overly worry those in favor of reproductive health care rights, can we be sure that Langevin's deep respect won't eventually cause him to compromise his duty as an elected official?
I ask the question rhetorically. I think there are many fine Catholic politicians holding elected office in our state, and I have little cause to doubt them. But the louder Tobin publicly demands allegiance to Catholic doctrine over duty to our country, the more a reasonable person has cause to worry about the loyalty of those in Tobin's cross-hairs.
Bishop Tobin Confuses Anti-Choice for Pro-Life

,