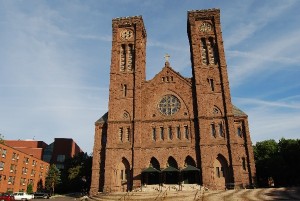 In a not-very-Christ-like op-ed piece titled "Five Problems With Homosexual Marriage," the leader of the Catholic Church in Rhode Island reaffirmed his objections to same sex relationship equality.
"It's a sure sign of spring, as predictable as the Red Sox at spring training, the swallows returning to Capistrano, and the flowing of green beer on St. Patrick's Day," wrote Bishop Thomas Tobin. "I'm referring of course to the public re-appearance of the determined proponents of homosexual marriage."
Yeah, nothing says warmer weather to come like people fighting for equal protection under the law. Most unfortunately, when it comes to the Catholic Church, it seems that hate springs eternal.
Not to fear though, Rev. Gene Dyszlewkski, chair of the Rhode Island Religious Coalition in Support of Marriage Equality quickly shot back.
"No Christian I know believes in discrimination," he said in a statement rebuking the Bishop. "No Christian I know thinks it's OK to deny basic human rights to a minority class of citizens. I think Bishop Tobin would do well to remember that. These continued attacks on our gay and lesbian brothers and sisters only further perpetuate the notion that some religious leaders are out of touch with members of their faith."
Bishop Tobin on Gay Marriage: Not Christ Like

,