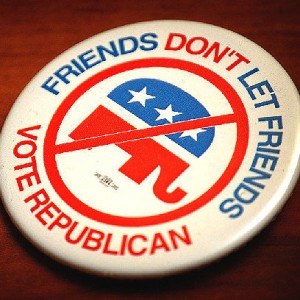 In case you haven't heard, the election for Rhode Island Republican chair has turned into a mess. And let's remember, this wasn't a paid position or even a position of much influence or power. After invalidating the 94-93 vote by the party's central committee to make Warren Republican Town Committee chair Mark Smiley chair of the Rhode Island Republican Party, the missing voter has been found, and it was all a clerical error; this led Smiley's opponent Dr. Dan Harrop (who last challenged David Cicilline for mayor of Providence) to challenge the result.
But then, of course, it got worse. After an anonymous email from a hitherto unknown (and probably non-existent) Republican faction blasted the Smiley loyalists as bigots, former state senator Beth Moura left a semi-cryptic anti-GOP message on Harrop's Facebook timeline. And finally, over at WPRO, Kim Kalunian has all the reactions from various Republican Party factions as of the end of Tuesday, including my personal favorite line refuting accusations of bigotry:
"We have friends and members that are Hispanic or black," [Raymond] McKay [president of the Rhode Island Republican Assembly] said.
It would be funny if it weren't so sad. Not a promising start to a position which is vaguely the de facto leader of the Rhode Island Republicans (at least in years without a Republican governor). Not a promising way for a chair who might need to "restore credibility" to the Republican Party in Rhode Island to win the position.
I don't think the 94-93 split is as divisive as it seems. For one thing, the candidates don't seem to be that distinguishable on issues (as even outgoing chair Mark Zaccaria said). Smiley supposedly is the conservative wing and Harrop is supposed the moderate wing. Another thing is that political parties' central committees are rarely representative of the actual voters that make up a party; those feelings are more accurately gauged by the party primary for party purposes. 187 people probably do not represent all of Rhode Island's roughly 80,000 registered Republicans. Central committees tend to be made up of the most active of the activists, not of the rank and file voters.
So while Republicans can probably put away any fear of a public defection of their moderate wing (it has been quietly defecting for years), this vote doesn't bode well for their prospects. After all, if not a single General Assembly incumbent lost a seat in 2012 (the year 38 Studios collapsed), it seems unlikely that the GOP could make significant gains in the 2014 cycle (certainly not large enough to weaken Democratic control of the state). What this will do is create bad blood between party factions, and in a small state like Rhode Island, you need your party to at least be able to work together in a general election to share data, assist with voter registration and outreach, and cooperate during get-out-the-vote. If there's too much tension, the lackluster effort the GOP already puts into those fields could be easily diminished.
Indeed, it seems likely that between General Treasurer Gina Raimondo and Providence Mayor Angel Taveras that the Democratic Party has two highly-popular and well-known figures to run for the state's top office. The GOP's top contenders seem to remain Cranston Mayor Allan Fung and Warwick Mayor Scott Avedisian. If the Democrats can seize the governor's office, they might easily be able to hold it for the foreseeable future until the Republicans or another party finally emerge as a credible alternative.
Breakdown In RI GOP

,