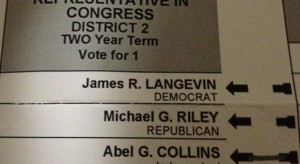 There's a lot of good news for progressive candidates for Congress in Brown's new poll that came out today. The biggest is probably that Abel Collins, an independent running for the second congressional district, garnered high enough support to be included in WJAR's debate.
Collins campaign manager Dave Fisher said he "absolutely" thought his candidate would poll better, but critiqued the methodology of the poll, saying it relies on people who have landlines and thus overly-samples conservative voters, a theory pollsters deny.
"I would have liked to have seen us in the high teens," Fisher said, noting that if internet users were better represented, Collins would be doing much better.
Incumbent Jim Langevin received 49.4 percent support in the poll and conservative Mike Riley got 31.5 percent support.
While Collins only got 4.7 percent support, that's enough to be included to the WJAR debate. The poll has a margin of error of 6.3 percent. WJAR's debat inclusion rules require a candidate get at 10 percent support.
"Once people see Abel on stage next to his opponents, a lot of people will change their minds," he said.
The Brown poll is the fifth since the primary to show Congressman David Cicilline enjoying a 5.5 percent lead over his Republican opponent Brendan Doherty.
Senator Sheldon Whitehouse did the best among congressional candidates getting 58.6 percent support. His challenger Barry Hinckley only got 29.7 percent.
"Voters also favored President Barack Obama (58.2 percent) over Republican Mitt Romney (32.3 percent) with 9.5 percent of voters still undecided in that race," according to a press release on the polls results. "Among all registered voters, Obama received a 53.7 percent approval rating, with 45.6 percent disapproving of his performance. A similar number, 55.2 percent, approve of the way Obama is handling the economy, while 39.5 disapprove."
Here's a link to the full list of questions for the poll, and the responses.