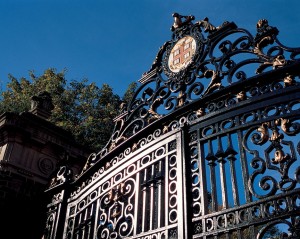 Marriage equality has finally come to Rhode Island, the last state in New England to enact full equality for same sex couples! Many organizations took part in this effort, but one group deserves extra special recognition in my mind; young activists, especially the College Democrats of Brown University.
Young people overwhelming support equality for the GLBT/Queer community, and our organizations worked hard to bring our state equality. I know the work of young progressives was the main reason equality has come to Rhode Island. The Young Democrats of Rhode Island's board of directors certainly put in countless hours door knocking, phone banking and calling our elected officials. However, our work pales in comparison to the College Democrats of Brown University and their parent group the College Democrats of Rhode Island. These college students quietly worked hundreds of hours contacting thousands of voters.
Throughout this entire fight this spring I would receive reports from people working on marriage equality about the hard work of the Brown College Democrats. Every week they organized phone banks with 40 to 50 volunteers and many weekends they were the canvassers knocking on doors. They did this for free and many of them were not fighting for their own right to marry, but they fought for what they new was right.
The Brown College Democrats are not looking to take a victory lap, but they deserve it. They have worked so hard and told so few people about all their great work. Their humility is refreshing in politics. This is not to say other groups did not work hard and helped us win this fight. Many great organizations in the coalition fought for our rights. Including such wonderful organizations as Ocean State Action, and the Progressive Democrats who both fought for equality and all the coalition members deserve praise, but the quiet heroes of this fight are a group of dedicated college students giving their time to help others.
The College Democrats of Brown University and the College Democrats of Rhode Island are a perfect example of the power of young voters to create change in our state and our country. Young people may not be the richest demographic, but we are not afraid to work hard to help others. The college democrats are proof! Without the work of this army of college students and young people, it is unlikely equality would have come to the Ocean State. Their work is important not just to praise but also for candidates and issue groups to take note of the power of young people. From marriage equality, to social justice and the occupy movement and Presidential elections, young people are making their voices heard and winning!
This fight was the largest grassroots army the state has seen in recent memory. It forced our elected leaders off the sidelines and got them to take the tough vote! Rhode Islanders can create the change we seek, and to raise our army of grassroots activists, it cannot be completed without tapping young people including the College Democrats of Rhode Island and the Young Democrats of Rhode Island!
The College Democrats of Brown University deserve praise and thanks from all of us, young and old, who want to live in a state free from discrimination and a place where all are treated equally under the law. As the President of the Young Democrats of Rhode Island and as a proud gay man, I thank the College Democrats for all your work on marriage equality!
Brown U Dems: unsung heroes of marriage equality

,