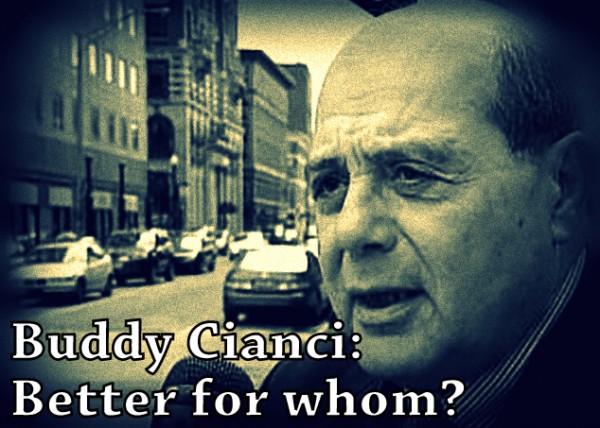 Cianci's record from the 1990s raises many questions about for whom the city was better for when he was mayor.
"Every few years," Ian Donnis wrote in the Providence Phoenix at the time, "an incident involving Providence police has provoked outrage and prompted calls for a greater degree of public accountability. In 1992, it was the police beating of a student at Mount Pleasant High School. In 1995, a controversy erupted after an officer was videotaped kicking a man [Corey West] on the ground outside the former Strand club on Washington Street."
Cianci criticized the violence in both instances. However, the follow-up raises eyebrows.
In the 1995 case, the rookie officer involved kept his position following protests from the union. The chief involved, who faced heavy criticism from the union for moving too quickly to suspend the officer, resigned shortly after. Despite positive words, little was done to change the culture or procedures of the force.
A 1998 Human Rights Watch report reviewed complaints of police abuse in Providence, noting, "During a ride-along with a Providence police sergeant, he … repeatedly mentioned that officers only fear a federal inquiry, not investigations by IAB [Internal Affairs]."
In 2000, community protests and organizing followed the shooting death of Sgt Cornel Young,Jr, a black Providence police officer who was shot dead by two white colleagues who thought he was a suspect and a threat, not a fellow officer off duty trying to help at the scene of a crime.
Ten years ago, Marion Davis wrote a piece in the Phoenix, "Did Cornel Young die in vain?" examining the Providence police early in Cicilline's first term. Many neighborhood leaders saw halting changes, some saw no difference (as was sadly echoed in this police- run drug ring found during Cicilline's last term), but some experienced a culture shift.  As Jose Brito, a Southside business owner, saw it:
"We're not afraid to talk to the police now…we don't feel they're the kind of people we have to hate anymore — and believe me, we used to hate them…Now they talk to us as humans, even they have coffee with us, and they're willing to sit down and spend time talking, and we can tell them complaints that we have. That's important. Things change when you listen to somebody."
Times change. Under Taveras, Providence won a regional award for its Community Policing practices, and just graduated its most diverse new officer class ever (even as two new rookies will potentially be  dismissed for larceny). That in itself is a change- now, a rookie involved with theft is dismissed. Under Cianci, a rookie involved with beating a member of the public stayed on the force.
The methods and leadership of the police department now, under Taveras, are better than Cianci's last term in office, when their were more officers, a better job market, and more homicides.
Cianci tells a great story- but who was his Providence really better for?
Buddy Cianci's Providence: better for whom?

,